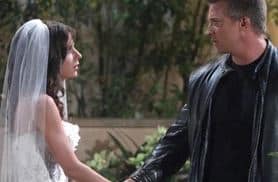 General Hospital fans know that there is a natural disaster getting ready to hit Port Charles, and we know it's big. We know it's the kind of quake that will change lives and make things bad for everyone involved. It's not something we can stop, and it's not something we can predict. It's not something that will spare anyone, either. And we think this is what might bring Sam and Jason closer together.
They certainly will not be the only two who have problems of their own, either. They will face some serious problems in their lives, and they might have more to do with their future, their kids, and their current situation than we realize. It might also make some people realize that their current issues aren't that big. Some people have been dealing with petty drama for a while now, and we are here to tell them that this is the kind of stuff that no longer matters. It's the kind of stuff that doesn't make a difference at all anymore. It's all over.
This quake could take lives. It will certainly ruin lives, and there is nothing anyone can do about it. They don't see it coming. They're not prepared, and they will all suffer something of a loss and something of a gain based on all they learn. It's not going to be pretty, but it's going to make their lives a lot different. Will it affect them so much they might end up back together? We can't tell.