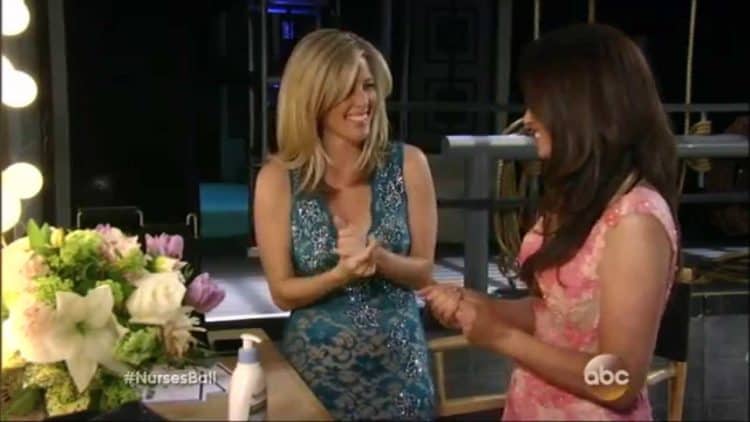 General Hospital fans are all excited about the end of the week, the beginning of the new week next week, and the promise that hopefully our favorite cast will get to go back to work sooner rather than later. It's been a fun week watching Nurses Ball history in the making, but it's something we know cannot go on forever. The first week of throwbacks was a success, and this is something we can credit to the fact that writers and the cast have done a stellar job of making the ball amazing every year. We've seen a lot this week, and today will be one more final Nurses Ball episode. It's time for Duke to take out a hit on Jordan. Things are getting ugly in Port Charles as the date is May 5, 2015. Spencer is someone who is going to receive a visit that surprises him — from a loved one, at that. Elizabeth is desperate. She needs her friend Nikolas to tell no one else that Jake Doe is Jason Morgan. She wants him to keep the truth between them, and that means we are looking to get to know a bit more about the elusive and very tricky Elizabeth Webber.
She Was a Wild Child
When she first came to Port Charles, she was not a happy girl. She was a teenager. It was 1997, and she was abandoned by her parents, sent to live with her grandmother and her sister. She was dark, mad, and she wasn't looking to follow any rules. She literally did not care about anything. However, she changed quickly after she was in town for about a year and someone attacked her. She was raped, and it made her realize that her wild ways were putting her in some serious danger. She walked away from that horrible experience feeling as if she was scared and afraid for her life, and she didn't make much of an effort to live her wild side again.
She Met Lucky
She and Lucky grew very close following her rape. She was scared and not sure where to go and what to do, and she turned to him. They grew very close. Their friendship was a special one, and it was a slow one. It wasn't long before everyone could see that they were in love with one another, and their coupling was almost as popular as that of his own parents, Luke and Laura. Their situation was put on hold, though, when Lucky was thought to have died in a fire approximately a year into their relationship. He was gone for a very long time, and that meant that he was not going to get the love of his life. He returned in 2000, but it was too late. He didn't have any memory of who he was.
The First Marriage with Lucky
It was 2005 before this couple ever tied the knot. They went through so much with one another in the meantime, and she even had a son at that point. He was involved with her own sister, and things just didn't work out. But, it was 2005 when they finally got married. They were happy for a moment, but that didn't work out. She had a miscarriage, they were in a horrible accident, he was kidnapped, and Jason rescued her, which didn't make Lucky feel very good about anything. His injuries caused him to become addicted to his painkillers, which put him on a drug-induced path. She was not overly happy with that, and their lives changed.
Lucky was convinced his wife was cheating in him, so he began sleeping with Maxie (she was giving him her drugs). When Elizabeth caught them in bed together, she decided to get back at him by sleeping with Jason. She ended up pregnant with Jason's baby, but she hit it because she didn't want a baby with a man who was a mobster. She hid it all, but she still divorced Lucky. She gave birth to the baby, telling Lucky it was his son so that he would stop using drugs, and that worked. But, not for long.