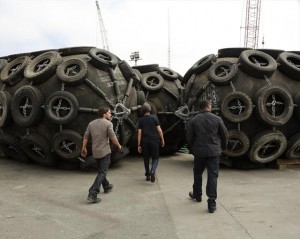 General Hospital makes its move to its new timeslot on Monday, September 10, as the mass poisoning of Port Charles residents continues to take its toll. The time change is ushered in with plenty of action, stunts and location shooting.
Über-villain Jerry Jacks (Sebastian Roché) has introduced a pathogen into the water supply and almost everyone in the city is poisoned. For a unique ransom, Jerry will deliver an antiserum within forty-eight hours before the entire city dies.
In an attempt to save the city (and himself) Todd bands together Port Charles's wealthiest citizens to put up the $88+million dollar ransom. Todd (Roger Howarth), Sonny (Maurice Benard), Jax (Ingo Rademacher), Carly (Laura Wright) and Johnny (Brandon Barash) all gather at the docks to meet Jerry and pay the ransom. The odd alliance intentionally avoids telling the police about the plan so that Jerry's "no cops" rule is enforced.
While they wait at a boatyard, the group attempts some amends while continuing to hide secrets. The poison's effects grow worse when Jerry is delayed at Alexis's (Nancy Lee Grahn) house. Jerry discusses the past with Shawn (Sean Blakemore) before knocking him unconscious. The elder Jacks brother abducts Alexis and takes her to the boatyard to collect his ransom.
Jerry's motivation for wreaking havoc (this time) ties back to the storyline that introduced Kelly Monaco to General Hospital with the legend of Wild Bill Hickok's "Dead Man's Hand". Jerry and Jax's father, John, became fabulously wealthy upon acquiring the fated poker hand, and it is revealed that Dr. Ewen Keenan (Nathin Butler) killed John Jacks because of it.
The poker cards, reputed to be a good luck charm, belonged to Ewen's family and the loss of the cards, led to a run of bad luck for the Keenans. That bad luck peaks when Jason (Steve Burton) shoots Ewen while rescuing Elizabeth. The shooters are taken to General Hospital, and Ewen dies while trying to tell Patrick (Jason Thompson) that Robin is alive.
As Jason awaits surgery to remove the bullet, he and Sam discuss their failed marriage. Patrick assures them that Sam's baby would not have lived, regardless of the circumstance.
Jason and Elizabeth check Sam's hospital file, and Jason suspects that the infant that died was not Sam's. One person, Heather, who knows the truth is in Llanview, visiting Téa and Sam's very-much-alive baby.
Back in Port Charles, time for its residents runs short. Dante (Dominic Zamprogrna) and John (Michael Easton) trace a call from Sonny to locate Jerry's destination when Shawn shows up with an unexpected assist.
On-air promos and episode photos reveal that General Hospital's new time period will be action-packed. In most markets, General Hospital will air one hour earlier, generally at 2pm or 1pm. Check local listings for the new time.