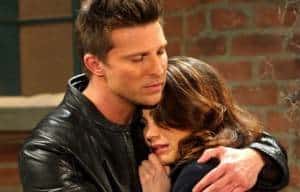 I'm just catching up on all the hoopla surrounding Sonny and Brenda's recent wedding (my DVR is full of General Hospital episodes), but it looks like some emotional tragedy will be happening next in Port Charles.
As most of you will probably remember, Jason Morgan is actually the father of one of Elizabeth's sons: Jake. However, because he was in the mob at the time (and still is, actually), he decided to remove himself from Jake's life and allow Lucky to raise Jake as his own son (as Lucky and Elizabeth already had a son together). While Jason has obviously seen Jake as he's grown up from a baby into a toddler, he hasn't allowed himself the luxury of taking on a parental role.
Starting later this week on March 17, poor little Jake is going to be hit by a car. Elizabeth will be calling both of Jake's fathers to the hospital to wait with her. It looks like the news of the accident will be felt by a lot of people, including Lucky's extended family.
We can only imagine what might happen: will Jake need a transplant of some kind and Jason will have to step in to be a doner? If Jake recovers from the accident will Jason decide to take a more active role in his life?
Tune into General Hospital staring March 17 to see how the story plays out.
clarissa @ tvovermind.com
twitter.com/clarissa373
twitter.com/tvovermind