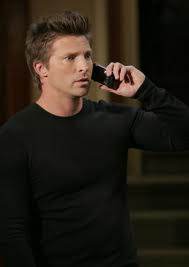 Earlier this week we posted a trailer for an upcoming storyline on General Hospital that should commence on March 17 (view it here). Little Jake will be hit by a car, which means that Elizabeth, Lucky, Jason and their respective families will have to deal with the fallout.
Jason's in a tough spot, of course. He gave up his parental rights and a place in Jake's life because of his job with Sonny and the mob a few years ago. Elizabeth and Lucky have been raising Jake as their son and the truth of Jake's paternity isn't known by everyone.
But it looks like the secret will be revealed. Below is a sneak peek from ABC that I believe is from the March 18 episode (I think Jake gets hit by the end at the very end of the March 17 episode). In the sneak peek, Jason and Michael head to the hospital, obviously called there by Elizabeth, who told her brother – Dr. Webber – about Jason being Jake's father. Jason's desperate for news about his son's condition, but there's not much to tell right now.
Will the driver of the car be another infamous Port Charles character or someone random? I guess we'll have to wait and see.
clarissa @ tvovermind.com
twitter.com/clarissa373
twitter.com/tvovermind