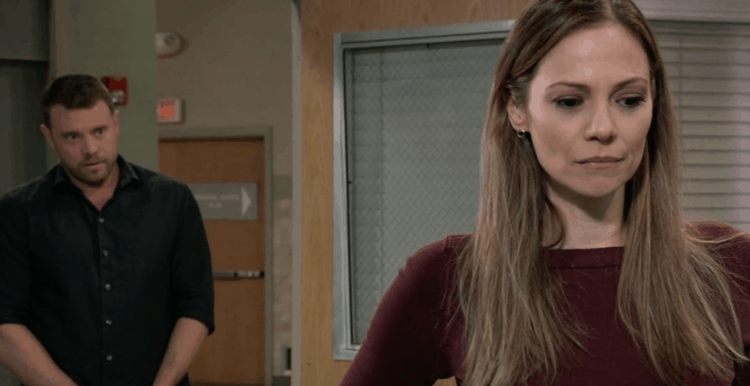 General Hospital fans know that Ava is feeling more than a little confrontational at the way things are going in her life right now. She's been in the middle of feeling as if she is getting lost, and things are not working in her favor. She's not having it, and she is not going to have any way of knowing what is going on if she's not being given the answers she needs. She's in a fragile state right now. Who wouldn't be when they find out the married man they stole from another woman and agreed to marry and have been very intimate with is a killer who took the life of her own daughter and who is not the man he said he was, but rather his crazy twin brother? We'd feel a little confrontational if that was our life, too. But that's not us, and this is not our situation, and we don't know what else to do at this point.
We do know we can get a little bit more accomplished if we focus on things that are working out in our favor more so than we can if we focus on things that are not, but we know she's feeling the opposite. She's feeling like making it all the fault of someone else. She's blaming all of this on the man who was hiding his brother and keeping him from everyone else. She's looking to make this into Kevin's fault, and we can understand her feelings. Alexis, in other news, has offered up her services as an attorney, and that might not go well. Kim is looking to get rid of Shiloh, and she doesn't want his help. She wants him to leave her alone, and that is just that. She is not interested in anything else that is going on at the moment.
What's Happening on General Hospital
Davis girls get together and that's always explosive! @NancyLeeGrahn @_lexiainsworth @kellymonaco1 @haleypullos @GeneralHospital #GH55

— Frank Valentini (@valentinifrank) March 14, 2019
And we loved every second of it.
What's Next on General Hospital
"Show yourself or your boss dies." @dom_zamprogna #GH55 pic.twitter.com/1LhqP9y6Xb

— General Hospital (@GeneralHospital) March 12, 2019
We know that tings are not going to take a good turn for Kevin even though he is safe and alive. We know that Ava is going to want to make him pay for what she feels that he did to her, but that is not going to be something she needs to focus on. We hear that she will focus on this to the point that she cannot handle it anymore, and that she might actually get the two men confused and end up trying to hurt the wrong one in her quest for vengeance and for revenge. And what about Alexis, who needs some more time? She might need time for several reasons, though we do think that her time needs to come from the time she's spending with her ex. She's been intimate with Julian, and they have to figure this out.
She needs time to figure that out, and we get that. We get that she is someone who has to make decisions and focus on things that are going to work in her favor. But what happens when we get to see things unfold in a way that is more prevalent? And what happens when we figure out what is going on with her is not going to make anyone feel better? And, then we have Michael, who is going to become involved in something he doesn't want to be involved in. It's an argument, and he will not be happy.
Stay tuned for more General Hospital and be sure to check out TVOvermind daily for the latest General Hospital spoilers, news, and updates.