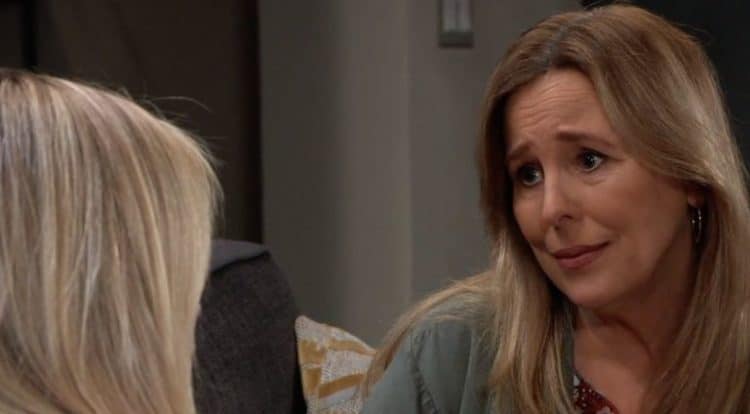 General Hospital fans aren't that surprised that Hayden went and made a total fool of herself last week. We did think that we might see that coming, and we just don't feel that much surprise from it. She is a woman who has a lot of stuff going on in her life, and she's someone who is making some big mistakes in her life trying to make things work. She's got something to say to the people in her life, and telling Finn that she cannot stop thinking about him was a mistake. He's not thinking about her. She did a lot of people wrong, and she did a lot of horrible things – especially to Finn – when she took off before, and he is not that impressed by her sudden desire to be with him. She thought he might be more into it, but he was not.
Michael, on the other hand, needs to worry about his own life. He has no idea that Sasha is not at all who she likes to say she is, and that is a problem that they will have to deal with on their own. They have so much history that they are making right now as they relax and enjoy one another, and we have not seen him so happy in such a long time. But, he is about to lose that. He's involved with another woman who is getting by in Port Charles by lying about who she is and what she is up to. Will the fact that we suspect he might find out his son is alive in the near future change the heartbreak he feels in this situation? We are not certain, but we can hope, right? We know things don't feel good for them in the moment, but perhaps this might work out a bit.
What's Happening on General Hospital
Neil and Alexis make a major discovery! #JoeFlanigan @NancyLeeGrahn @GeneralHospital #GH

— Frank Valentini (@valentinifrank) August 1, 2019
Will this make some things a little clearer for all of us?
What's Next on General Hospital
WATCH: Neil opens up to Alexis about his daughter for the first time. @NancyLeeGrahn @JoeFlanigan #GH pic.twitter.com/hqrRdA4D2j

— General Hospital (@GeneralHospital) August 2, 2019
Things are taking a horrible turn for so many people on this show, but Finn is making one of the biggest mistakes if you ask us. He is relying on Epiphany, and we are not sure that is a wise decision on his part. Is she being honest with him? Is she making the right moves and telling the truth and being there for him when he needs her the most? Or is she playing him? We can see either working in his favor, but we don't know the truth just yet. Meanwhile, Julian is bonding with his son. It's nice. They should bond together, but they've not really had that much of an opportunity. We like to see this, and it does work for us.
Alexis, on the other hand, is about to receive some news that will leave her very upset. It's not good news. It's quite bad to be honest, and we cannot figure it out. But, we also know that there is a lot happening to them and with them, and it's just a situation that didn't make them feel good. She's got a lot going on, so her bad news could come from anything. It might be related to a case she's working. It might be related to her ex, to her kids, to her personal life. It might be from Sonny. We don't know, but she's going to be unhappy about all of it no matter what she does or how it works out for them. She's not a happy girl, and we know it.
Stay tuned for more General Hospital and be sure to check out TVOvermind daily for the latest General Hospital spoilers, news, and updates.