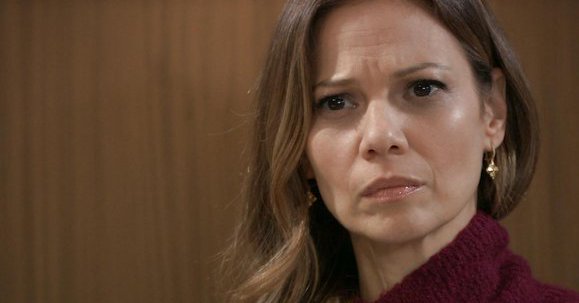 General Hospital fans are shocked by so many things, but few things shock us more than the fact that Sam is in so much trouble. This is something that didn't work out well for her at all, but she didn't see this coming. She thought she was doing all the things right to get Shiloh back in prison so that he could pay for the crimes he committed and the people he hurt so badly along the way — including her little sister, Kristina. Instead, he got out, and somehow managed to die and make it look as if she did it to herself. It's horrible, but Jason seems to be looking for hopeful ways to get her free and clear of this accusation. On the flip side, there is another person in jail who we are seeing a lot more of these days. Nelle is suddenly a woman who is making some serious appearances on the show, and we have to wonder if this means she is making a grand comeback.
If she does, will Michael get his baby back? Will things change for him, or for the couple whom she traded with so that Michael would think his baby died? And will Sasha support him as much as he has supported her over the past week or so if she finds out the truth about what happened in his life and how it all went down? He's going out of his way to support her now even though the secret she's been keeping with Valentin call came out. He lied to everyone, and he hired her to pretend to be Nina's daughter, and it was a horrible thing they did. Michael's support is a little shocking to all of us, but will this last now?
What's Happening on General Hospital
Ryan's not letting Ava forget about him that easily. How far is he willing to go for her attention?
A chilling, new #GH starts RIGHT NOW on ABC! @thejonlindstrom pic.twitter.com/OCN00j0V8L

— General Hospital (@GeneralHospital) October 17, 2019
He's a problem, right?
What's Next on General Hospital
"Sam's about to go to prison because of me!" #GH pic.twitter.com/jQHi7SE6WM

— General Hospital (@GeneralHospital) October 14, 2019
Lucas and Brad are clearly in a bad place right now, and things are not looking good for them. There is a big and ugly secret in their lives that one of them does not know about, and the other is trying so hard to make things right. It's so much of a pain for them to go through these marital issues. Being up all night, not knowing what is wrong with your partner, not knowing how to handle things that are going on in your life, not being able to focus on things that aren't working. There's so much we don't know and cannot handle about this, but it's not going to be easy for them to get through this. In fact, with the concept of Nelle being released and perhaps wanting her baby back on the horizon, there is a good chance this secret will come out and not only ruin their family but their marriage. It's too much, though we do hear Brad is about to receive some flowers — which is beautiful.
Ava is going to collapse, which is not beautiful. This woman cannot catch a break to save her life, but we don't know what might happen to her in this situation. Is she ill? Is she stressed and tired and doing this to herself? Is this a life issue she can work through, or is there more to this than meets the eye? We cannot figure this out, but we do know that there is a lot that might happen otherwise. We might be able to focus on things that are beyond our control if we put the effort in, but we don't know that we can do that.
Stay tuned for more General Hospital and be sure to check out TVOvermind daily for the latest General Hospital spoilers, news, and updates.