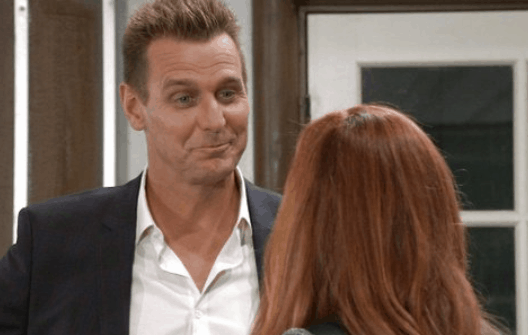 General Hospital fans saw a lot happen already this week, and so much of that is something we are struggling to wrap our minds around. There is a lot we don't understand, especially what we just learned about Harmony and Willow. We are with Chase on this one, who is going to sit here in shock that Harmony is the mother to Willow, who is the mother of the baby that Brad and Lucas are raising (we are currently ignoring the fact that this is not the truth, but you know what we mean). There's a lot that has happened around here, but there is nothing else that works. Harmony will hurt her own daughter to further her own agenda, but there is little that will help her in the grand scheme of things otherwise. She's not a nice woman, and she is putting her own daughter and grandchild at risk by making sure Shiloh knows what is going on.
Shiloh, on the other hand, will never change. He is a man who is going to make Sam miserable as best he can. He's not in trouble – yet – for what he did, but he knows what she did. And he is not about to make her life any easier. He is a man who has a lot of problems to deal with, and he's not going to focus on much more than getting back at her. She's not someone who will deal with it in a way that doesn't bother her, but she has more backup than he does. He might not know what she is capable of, but he will continue to make her miserable until she figures this out and makes it go away. And, trust us, she will make this go away. She will make this happen.
What's Happening on General Hospital
It was lovely meeting all of you yesterday at the #GHconvention! I had so much fun! @CreationEnt @valentinifrank @GeneralHospital pic.twitter.com/ZetQcI5jSh

— Genie Francis (@GenieFrancis) June 10, 2019
It's impossible not to love her so very much, am I right?
What's Next on General Hospital
"But Shiloh, I can kill. And you're right, I don't wanna wait. I don't wanna plan it. I just want to do it and get it done!" #GH pic.twitter.com/WXF4C4yTxa

— General Hospital (@GeneralHospital) June 10, 2019
Jordan is going to ask Curtis what is going on. There's a lot happening in her life right now, but she's aware that he's been keeping secrets from her, and that there are some problems in her life that she's not been made aware of. Curtis, of course, has been spending every waking moment he possibly can by her side to ensure she's okay, that she lives, and that he has all the time with her. But, he's also been keeping things from her. He did not feel that there was a big reason to share some things with her considering what is going on in their lives. He felt that there was a lot he didn't need to share with her simply because there is nothing that she can do from her hospital bed – and she's not happy about any of it.
Ava is not going to sit back and wait for her life to happen to her, either. She's cutting her losses, moving on, and focusing on all the good things she can focus on. She's over what is happening to her, and she's not about to sit her and allow anyone else to mess with her and her life. She's over it, she's done, and she's not having it. She's not going to let anyone else mess with her, and we get it. We get that she has more to live for, so she's cutting her losses and moving on. The hurt she felt is not going to hold her back anymore, and this might be a new day for her new beginnings.
Stay tuned for more General Hospital and be sure to check out TVOvermind daily for the latest General Hospital spoilers, news, and updates.