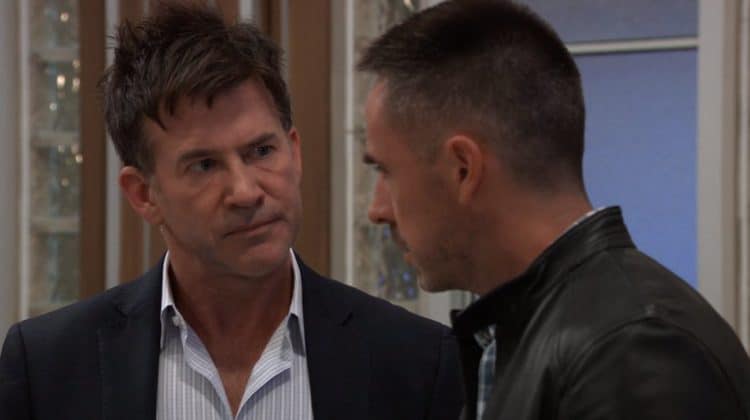 General Hospital fans aren't sure that many things will ever go right anymore. The entire show has become so depressing, and we cannot handle it. No one is happy, no one is getting anything positive in their lives, and everyone is a mess. We get it, but we are not that happy about it. We have to sit here and wonder if there is more to this, but it's not going to get any better anytime soon. Lucas now knows about Wiley and what Brad did, and that is not going to make this situation any better. We just don't see him forgiving the man he loves for doing this, and we cannot see him being able to keep this baby and pretend that it's not a baby that belongs to another family. He's devastated by this news – and he's so upset with Brad.
Meanwhile, we know that there is a chance no one else will learn about this considering that Lucas crashed his car into Kendra. We just don't know if anyone will be able to get through this alive. We do know that there is a lot happening, but we also know that there is a family who might just learn something that will bring them happiness. When the truth comes out about Wiley to others, they will love the news that this baby is alive. For one, we know that there is nothing that Michael can do to feel happier than find out that his son was not dead at birth but that he lived and is a happy, healthy, sweet baby boy. Of course, this means Willow will also learn the truth about her own baby, who did die shortly after he was born when something horrible happened. It's going to be bittersweet for so many people.
What's Happening on General Hospital
From our family to yours, we hope you had a great holiday weekend! #BehindTheScenes #GH pic.twitter.com/3HtOWDKGdt

— General Hospital (@GeneralHospital) December 2, 2019
It's a pretty family.
What's Next on General Hospital
There's so much Thanksgiving drama this year that we have new episodes airing today and tomorrow! We hope you like pizza. 🍕🦃🍕#GH pic.twitter.com/stQVeh4lJq

— General Hospital (@GeneralHospital) November 27, 2019
We aren't sure how things are playing out right now for everyone, but we know that Bobbie has some bad news to share. We know, too, that her news could literally encompass about anything that is going on in Port Charles right now, and that we are not shocked in the least that she has bad news to share. All things around here are bad news these days, and it's nothing new for us to hear that. But, we think that she might know something that someone else is not aware of, and it might make a huge difference in the way things are going for everyone else around here. Either way, she's sharing her news today. Michael has some issues of his own, too, but he is going to offer to help those who need it, and he is going to do just that.
He still has no idea that the son he thought was dead is actually alive and well, but he will learn soon now that the accident has happened and the truth is finally out. But, there will be more to this. Nina is going to end up surprised about something today, and we all know that there are very few things in life that surprise Nina. She's not going to find that many things are going well for her, but she's going to find out if there is something she can do to make things right. Can she, or will she only make things worse than there is going into this week?
Stay tuned for more General Hospital and be sure to check out TVOvermind daily for the latest General Hospital spoilers, news, and updates.