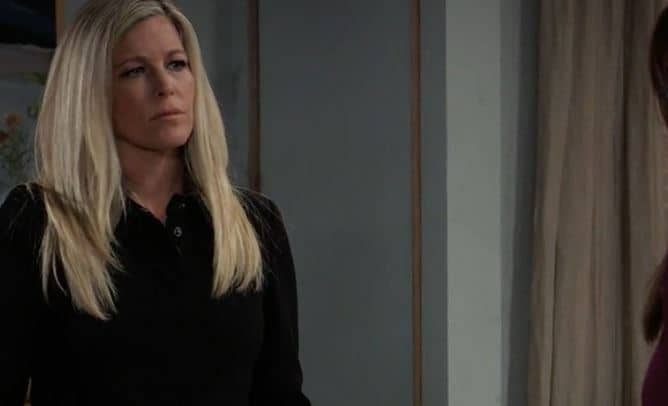 General Hospital fans know that Sonny stopped by Charlie's. He's got something to say, and he's not about to stop where he is. He's on a mission to make sure that his family is safe and things are not going to turn out for the worst. And we get to see that Julian and Kim are still a thing. We thought, for a second, that all the time he's been spending with Alexis these days might make that a thing of the past, but we aren't so certain that's the case. We do think that he might just be able to get this situation to work for him in some way, and we might just be impressed by that. But we aren't certain this is the truth in any capacity. It might work, but it might not work. And we don't know which is which.
The other good news is that there is something going on with Finn. He's got a very happy surprise coming his way, and we have to wonder if it's got something to do with Anna. We have no idea, of course, but we do suspect there is a good chance that it might be something more than what we can help but wonder. There' so much going on here, and there is so much going on that might just make the world more interesting. We just know he is such a nice guy who does have so much to offer, and we'd like to see him get that under control. He's had a rough time with a few things in his life, so this is a welcome surprise for him and what he needs. But will it last, and is it all too good to be true, or will he actually get to spend time enjoying it?
What's Happening on General Hospital
Nina's getting very close to her new daughter. Seems dangerous. @TheRealStafford @GeneralHospital #GH55

— Frank Valentini (@valentinifrank) October 25, 2018
It is dangerous, and we love that. Will she find out more? Will she find out that she's not her daughter, that she is her daughter, that things didn't work out for some other reason? We suspect there must be a twist here, and we want to know if you think the same thing.
What's Next on General Hospital
"Now you've piqued my interest… " #GH55 pic.twitter.com/JDqfuc8tXx

— General Hospital (@GeneralHospital) October 22, 2018
The end of the week brings some serious drama. For one, we are going to see Sam head out of town. We don't know what will happen here, but there is always a chance she will be in some sort of danger. She's been trying to keep things a bit more low-key lately, but that just isn't always possible for her. She's got so much going on in her life on a regular basis, and we aren't certain she can handle much of anything happening to derail her travel plans. But she might also find that she keeps thinking of someone when she's gone. Is that someone Jason or Drew? She's spent time with both of them recently, after all.
And then we will see that something will happen in Carly's life that leaves her surprised. She's not easily made to feel this way, so we wonder what it might be and how it might work for her and for the rest of us. She's the kind of woman who gives herself plenty of time and plenty of effort when she feels she needs something, but she's not someone who really does make goo decisions all the time. We will find out this weekend what's up. And we will also find out that there is something going on in Laura's life. She has no idea that she's not with Kevin, but with his evil twin instead. And we have to wonder how many evil twin sets can possibly rock this town so much this year? It's not the first, you know.
Stay tuned for more General Hospital and be sure to check out TVOvermind daily for the latest General Hospital spoilers, news, and updates.