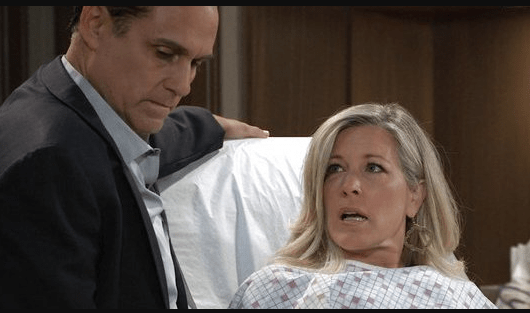 General Hospital fans are loving that Sam and Jason have reconnected. It's all we've been looking for in their lives for so long. We want them to be together. We want them to be happy. We want them to live the life that they were meant to live in a way that they were meant to live it, and there is nothing we would not do to stop that from being the only thing we see this week. But, there are always complications in their lives, and this feels too good to be true. She's still stuck in the past with all that has been going on, and he's not sure how to handle a lot of her life. But, in the moment, there is a lot happening that might just make sense to them. We can only hope that it works out for the best – because we can't handle it if it doesn't.
Chase has some concerns. He's been in a bad place with a few of the choices and decisions he's had to make as a part of his job lately, and there is little we can do about that. There's a lot that might not work out in this situation, but it's something that will always be a challenge for him. He will have to make some more choices, and he will find that his scruples are being tested in the coming days. Does he continue to do what is legal and required by his job, or does he do something else that might not make the same amount of sense in the grand scheme of his life? We are not certain that these are decisions he's going to be all right with, but we can see that they might just make more sense to those involved.
What's Happening on General Hospital
We're proud to celebrate #PrideMonth with @parryshen. All are welcome in Port Charles. #GH pic.twitter.com/KyAp2E4sOn

— General Hospital (@GeneralHospital) June 30, 2019
Are you aware?
What's Next on General Hospital
"There's no way in hell that Shiloh's getting his hands on Wiley." #GH pic.twitter.com/6LVVVtetes

— General Hospital (@GeneralHospital) June 24, 2019
There are some people who just don't know how to function in their lives without someone else getting in their way, and there are some people who just like to make trouble for others. Shiloh is one of the latter. He likes to do what he can to make trouble for those around him, to make problems for the people in his life, and he likes to make people miserable. He's a mess, and we all know it. He's a man who just cannot get it right, and that's a problem we all have to face. But, for now, he has to get his situation under control. We are hoping that he can do that, but we know that he is looking to make people miserable, and he's doing that at his own pace.
Carly is going to have a sleepless night, and we wonder if that has anything to do with the many reasons she feels that he is a mess. He is a man who doesn't really make wise decisions, but he is also a man who makes people miserable. But she's sleepless, and we think it might have to do with the stress of all that is going on, and he is part of so much of that. Then there is Finn, who has some sympathy for Chase. He knows how this feels and what it means to him, but what about all that hasn't happened just yet? Will there be any sort of situation that makes this feel less like a problem and more like a situation that seems happier?
Stay tuned for more General Hospital and be sure to check out TVOvermind daily for the latest General Hospital spoilers, news, and updates.