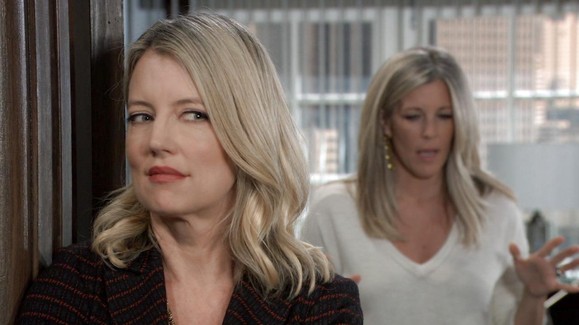 General Hospital fans know that Jordan's agenda right now is all about Jordan. It's all about doing what needs to be done, what is good for her, and what is going to make the world work in her favor. She's got a lot going on in her life, and she's not in the middle of doing anything that will change that. She is a woman who has a lot in her life to worry about, but she also has a lot in her life to hide. Jason tried to reason with her to no avail. She's continuing to lie to those around her, to be someone who is doing things her way, and no one can seem to slow her down. On the other side of things, there is also a situation with Spinelli. He finds himself in a situation that is nothing short of precarious. What will happen now?
Sasha is stunned. Her life has been bad lately, but it's only getting worse for her. She's gotten to a point where she's not sure being here in Salem is good for her or working for her. She is not sure that anything will change. She's not sure that there is a thing she can do right now. But, we also know that there's more to her life than just this. Sonny got a call that's urgent, and he is left wondering what to do. When will this all end? What does he do to stop this madness and try to get things to work in his favor? What can he do to end this all and make it as good as he can? And what can be done to stop him from going over the edge as these things are falling apart in his life? He's not sure.
What's Happening on Days of Our Lives
Spinelli is stepping out from behind his computer and into the field. Can he get some dirt on Sam's parole officer?
A tense, new #GH starts RIGHT NOW on ABC! @BfordAnderson pic.twitter.com/XgJlfY2rJS

— General Hospital (@GeneralHospital) March 25, 2020
We hope he can.
What's Next on Days of Our Lives
"You're a dirty cop now. Cyrus has you right where he wants you." #GH pic.twitter.com/Lrp84mUMjZ

— General Hospital (@GeneralHospital) March 23, 2020
Things are taking a turn before the weekend, you guys. Things are taking a turn. Sonny is about to get yet another phone all. Can we all just say a collective prayer for this man and his many horrible phone calls? We'd had to be him and have our phone ring, because it's never good news, and it's always something he has to find a way to deal with in the middle of a crisis. We just feel so much for him in this moment. For now, though, we cannot help but share with you that we know what this pre-weekend call is, and it's not good news. This is a call about his father. This is a call about Mike. It's not a good call. It's not a call he wants to get. It's not a call that is going to prove even remotely helpful to him in any way. It's a worrisome call, and we will all hold our breath until we know what it all means.
Additionally, Carly is done. She's done with Nelle. She's been done with this hot mess of a child for years, but she's so especially done with her now. She's going to confront her. She is going to share with this young woman that she is done, that she has nothing in her life left to do or care about. She has nothing to say. She's not allowing her near the baby or her son or anyone else in her family, and we think she might kill her if she even thought about coming close. We love this Carly.
Stay tuned for more General Hospital and be sure to check out TVOvermind daily for the latest General Hospital spoilers, news, and updates.