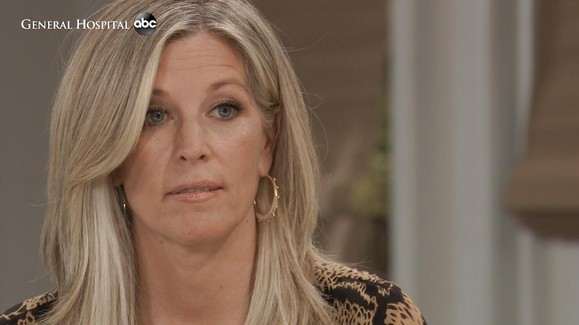 General Hospital fans are shocked by all that happened, and we need to start with Willow. Learning that she's been loving a baby that is not even her own baby has been hard on her. To know that her baby died of SIDS and no one told her has been something she did not see coming. To find this out and to know that she did not get to say goodbye or to grieve her son and that she went to prison to protect a baby who is not even hers from the man she had the baby with is a lot for her to handle. She is not in a good place right now, and we get that. We get that she has a lot on her plate and a lot on her mind, and she's got to go a long way to figuring that out. It's hard, and we do get that.
Then there is Michael, whose entire life is now different. His son is alive, he is a father, and all that he has been through is now different. His mother is furious, and she is not about to let anyone who was even a little bit involved in this get away with anything, and we get that, too. But, it turns out that Michael has some good days ahead of him, and he can feel that. He knows that Nelle is a problem and that she will have some situations of her own to deal with, but he is a man who is not that upset right now as things are really turning around for him in his own life. He's finally getting a happy ending, and he could not be happier about any of that and what it means for him as a person.
What's Happening on General Hospital
🎉Please help us wish @lesliecharleson a very #HappyBirthday! 🎊#GH pic.twitter.com/WfHN9XBrqj

— General Hospital (@GeneralHospital) February 22, 2020
Happy Birthday!
What's Next on General Hospital
"I'm all ears." #GH pic.twitter.com/OS2u1Ok0m9

— General Hospital (@GeneralHospital) February 18, 2020
Nelle is not going anywhere anytime soon. She's got her baby to think about and she's not that happy that everyone in town now knows the truth. She was looking to keep this to herself so she could just make off with the baby she gave up when no one was looking, and now things are not going her way. She is upset that they all know what is going on and that it means things that might not work out for her. There is a lot we can do right now, but there is also a lot that might not work out. But, for now, she is making herself known to everyone and she's not going to stop at all. She's not going to go anywhere, and she's not going to get her life in order anytime in the near future. She's not leaving.
Carly is not happy. She's, in fact, more than furious. She's never in her life been this upset by anything or anyone, and she's not letting anyone forget just how angry and upset she really is. She's delivering warnings to everyone who crossed her family and made these mistakes. She's not going to allow a single person to ever hurt her family this way again. To let her son think that his own baby died while making him the godfather of his own child with the truth right there, and to take her grandson from his family without telling anyone the truth? She's furious, and we are shocked how seemingly calm she is in the middle of this situation.
Stay tuned for more General Hospital and be sure to check out TVOvermind daily for the latest General Hospital spoilers, news, and updates.