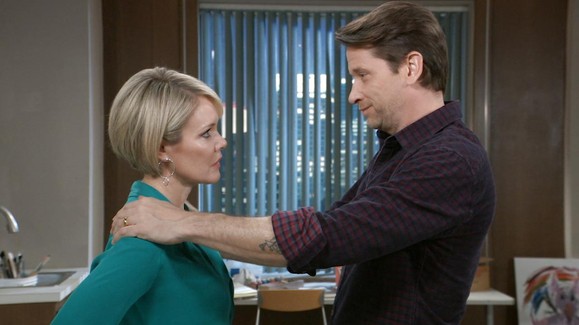 General Hospital fans know that Nelle is not a fan of Carly, but we think that Carly is less of a fan of Nelle. She tracked down this awful woman lats week and she did what she could to make sure that she knew how she feels about her, what she's going to do that keeps her son and her grandchild away from this horrible woman, and there is nothing she can do to change that. But, Nelle will not be outdone. She's got her own issues to take care of, and she went out of her own way to make sure she could tell Carly how she felt by going out of her own way to make this a thing. She took it upon herself to go find her, to tell her that she was going to do all she could to make sure that she gets her own way. Carly is more upset now.
We think that she is going to make sure Carly is so upset that she cannot handle things on her own. She is not going to stop until she wins. Monica, on the other hand, is a woman who has some good news. There is not a lot of that around here. There is not much of that in Port Charles these days because of all that is happening, but we know she is looking to share her good news. Mike is disoriented. But, he's that kind of man right now by his health. He's not sure of what is going on, but he knows that his son is going to be here for him no matter how he works through his life. He's got to try and understand, but Sonny is not going to bring him into this.
What's Happening on General Hospital
Willow is worried about her mom, West Coast. Should Jason keep his intel on Harmony to himself?
An emotional, new #GH starts RIGHT NOW on ABC! @katey_macmullen pic.twitter.com/3LHEhKJUoF

— General Hospital (@GeneralHospital) March 26, 2020
She has enough to worry about.
What's Next on General Hospital
"This is hell… I can't do it." #GH pic.twitter.com/ahlAvVIP20

— General Hospital (@GeneralHospital) March 30, 2020
What happens when Julian is worried? He's been worried more often than not lately, and we know that is not good for anyone. When he is worried, it typically means that things are not going well for him, that things are not going to slow down a bit, and that things are going to become a bit of a nightmare. There is a lot going on that we don't know and approve of, but his worry has us worried more than we thought it might. It's a lot right now, and we know this. We know that it's a lot that might happen. We know that it is a lot that might not work out, but he is worried and so are we. Finn, on the other hand, has a feeling that his friend might be in trouble. Which friend? This makes us worry, a lot.
Then there is what is going on with Curtis, who is having a lot of issues in his life. He needs to know more about Taggert and what is going on there, but will anyone be honest with him about this? Will anyone want to know how honest they can be in this time of need, or will we find that there are some things that just don't work for anyone, and we cannot make this work in any capacity? We don't know, specifically, but we do know that there might be a few things we can do right now to make this all seem different. We can keep watching, for now, and find out when it all goes down.
Stay tuned for more General Hospital and be sure to check out TVOvermind daily for the latest General Hospital spoilers, news, and updates.