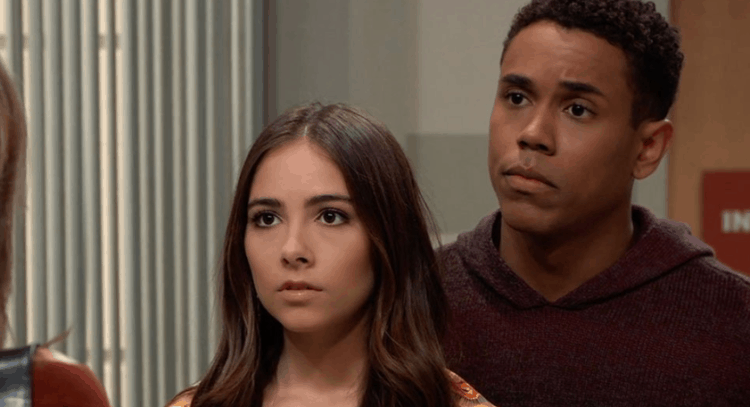 General Hospital fans are worried. Will they all put any lives in danger? Will someone open up their mouth and put Sam or Kristina and their family in danger now that this is all going down? We are, honestly, a little worried about Brad. He seems like the type who might cause more harm than good, and we are not going to sit back and wait for him to decide how he wants to live his life in the meantime. He has to be dealt with, but Jason is on that. He might not focus so much on that in the foreground, but we know he can do it and he can make things work in his favor. There's too much for him to lose if he doesn't. There's too much he cannot handle if he doesn't get this under control.
Sam is convinced that she's all right and that things will work in her favor. She's going to find that her life is not going to go her way if she's too confident, and we worry that's where she is. She's feeling good that she has Shiloh where she wants him, but we are not that sure she does. She seems to ignore a few things that seem important to us in his behavior because she's trying to expedite what is happening, and we ethink that this is not a problem she wants to have when it comes down to it. Is she off her game and not where she needs to be? If she is, she could put herself, her sister, and their families in danger. The gam she is playing is a hard one that isn't good for anyone, and we know that she will suffer more than she thinks she will.
What's Happening on General Hospital
#MondayMystery: Where in Port Charles would you find this royal-looking knick knack? 👑 Answer Friday. And remember – be specific! @GeneralHospital #GH pic.twitter.com/e84QHyijHW

— Frank Valentini (@valentinifrank) April 22, 2019
You know you've seen it before, but where did you see it?
What's Next on General Hospital
"That is how it's done." #GH pic.twitter.com/haO0qt6zSv

— General Hospital (@GeneralHospital) April 15, 2019
Let's just go ahead and discuss the happy fact that we know that Jax is coming back to town. He has a date set and all, and fans are so excited to see him make his comeback. However, we have to wonder if his comeback is going to coincide with his daughter needing him, and that might be when her best friend Oscar dies. That's all we can think, and if we are right, things will take a very crazy turn sooner rather than later. We don't know that there is much we can do to help this, but we do know that there is something we can assume from this, and it's not good news. For now, though, we have to wonder when this will all make sense to us.
On the other hand, Alexis is making mistakes. She is probably going to do something or say something that will make everyone miserable by proxy. She might not mean to, but she's an emotional wreck right now. Her life is not playing out how she thought she might see it when she had her vision of the future, but it is what it is and there is nothing she can do about that at the moment. There's a lot happening she cannot change, and that's the reality of her situation. It depends on who she is speaking to, of course, but we have a feeling what she has to say is not going to help the case that Sam is building. Worst case, it means Kristina is not safe.
Stay tuned for more General Hospital and be sure to check out TVOvermind daily for the latest General Hospital spoilers, news, and updates.