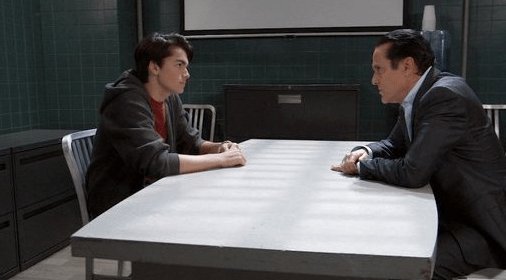 General Hospital fans felt that last week was a bit slow in the grand scheme of things. Peter is looking for help from Mac because he has to stop Lulu from what she is up to. She's got so much on her mind, and she's not in a good place. She is looking to find out what her husband is up to, where he is, and what gave him PTSD. He came home from a mission a man who was not her husband, and then he left. He didn't want to hurt her more than she was already hurt, and we aren't sure that he was able to focus on anything other than protecting her from the hurt he might bring to her life. He's a man who has a lot of noble abilities, and she's got to find him. Maxie is helping, but she's also in the dark.
Peter does not want them to do this, and he has to find a way to prevent this from happening in his life and their lives. But, we don't know what else to do, how else to do it, and what else he can do in his life to keep them off track and out of the way. He's doing this for some reason, and we hope his reason is nothing more than an attempt to protect them from themselves and the lives they are leading. But, for now, they are going to have a long history of problems working through the things that are in their lives. He's not a man who can help himself figure out what to do if he doesn't have Mac's help, but we aren't sure it will be enough. Peter doesn't want to upset Maxie, but this is not an option.
What's Happening on General Hospital
Kim's not doing well in the wake of Oscar's passing. Will some insight from Elizabeth be the thing she needs to step forward?
An emotional, new #GH starts RIGHT NOW on ABC! @TamaraBraun pic.twitter.com/9jfyqtVnmX

— General Hospital (@GeneralHospital) June 20, 2019
We aren't sure she will ever be better.
What's Next on General Hospital
This summer is bound to be hotter than ever. ☀️#GH pic.twitter.com/LoTjlGCIR4

— General Hospital (@GeneralHospital) June 17, 2019
Jax is here, and he is here to make sure his daughter has a chance to live her life, focus on what is important to her, and move forward with the things that she feels are necessary in her own life. And, her father is going to make sure that happens. She's been through so much lately, and she's a little lost. She was lost before, but losing Oscar made it impossible for her to feel that her life is worth living with any sort of ambition or goal in mind. She's not in her right frame of mind. She's delicate, and her father is going to make sure this does not continue. He's got an idea for her that might just change her way of living. She's going to find him offering her a chance to change her everyday life by offering her a change of pace she might just adore.
But, will this work for her? Will she take him up on his offer, and how will her mother and Sonny feel about it? They might not like it, but Carly might actually not feel the same as her husband. On the other side, though, Diane is working through her feelings, too. She's not going to act. She has a chance to bide her time, and that is precisely what she is doing. She's biding her time and waiting until things are just right, perfect, and they are going her way before she takes on the role of a lifetime. But, we just cannot sit back and wait to see her act once and for all.
Stay tuned for more General Hospital and be sure to check out TVOvermind daily for the latest General Hospital spoilers, news, and updates.