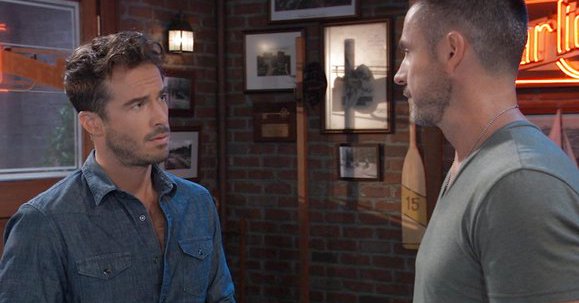 General Hospital fans are happy that Jason and Sam are having a good time together. They had a little time last week in which they were able to focus on things that were outside of their own comfort zone, and they were happy to help everyone figure out how to live on their own while they spent some quality time together. They were happy. They were relaxed. They were all the things that make us feel good about them, and they gave us all the warm and fuzzy moments we were hoping they might give us. In short, we were more than a little bit happy to see them living their best life together. Their best life should, after all, be spent together anyway. They are a wonderful couple who does wonderful things, and we needed that for them and for ourselves.
Willow, on the other hand, is seeing a bit more of Chase. She knows that he's doing anything he can to help her keep her baby hidden after she shared the truth about Shiloh with him. It's against his nature to share with her the things he has shared with her, but he did tell her the hard truth and it seemed to work. She needs to do what she can to protect her baby, and she needs to keep that to herself. She cannot allow him to be the kind of man who finds her baby. Though, we are super ready to see everyone find out the truth about this baby and the fact that it is not her baby. It's Michael's baby. That brings us to Sasha, who is coming to terms with her illness, and we hope that she can overcome whatever is on her mind. It's not looking good, but we do hope for the very best.
What's Happening on General Hospital
Dr. O catches Hayden in the middle of a crime! @gatitweets @RebeccaBudig @GeneralHospital #GH

— Frank Valentini (@valentinifrank) August 15, 2019
Always making trouble.
What's Next on General Hospital
"You may have been exposed to a serious contagion." #GH pic.twitter.com/J5akP57D2N

— General Hospital (@GeneralHospital) August 12, 2019
Things are taking some ugly turns around here, and we cannot stop staring. Jason is going to go see Franco. He's heard that this man has the memories that belong to Drew, and we suspect he wants some information. How will Franco feel about this, though? Will he be all right sharing secrets with Jason that don't actually belong to him? We are not sure about that, and we don't know how that will go. We are not sure there is much we can do to stop this from happening and going down, but we do know there is always more to the story than meets the eye. For now, though, we will just hope for the very best and make sure things take a turn for the better. We cannot change the game, but we can assume it will end on a note that surprises us.
There's not much else to do with that, but we also know that Liz is being put in the middle of this, too. Drew and Curtis want information from her, and they want it now. They are going to see her to see what they can accomplish on that feat, and we cannot say how that will go. Will she share with them what she knows? Will she do things her own way and lie about it? And will she make sure she can keep herself and her family protected from the many things that could go wrong here? We aren't sure she can handle so much of it, to be honest.
Stay tuned for more General Hospital and be sure to check out TVOvermind daily for the latest General Hospital spoilers, news, and updates