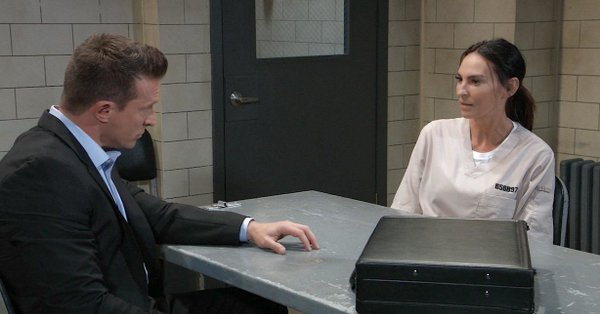 General Hospital fans know Joss has been in such an ugly place for such a long time now, and she's not going to find it very easy to deal with that and the situations that it brings her. She's been dealing with things that her dad is using to help her, and she's trying so hard to move on and make things right in her own life. She's trying to get her life together and to make it right, but she's struggling since Oscar's death. But, we did see her get an invitation to something that she was not expecting, and we hope that she's able to get it together enough to want to say yes to it. She's a woman who has a lot to offer, but she's also one who has a lot to deal with outside of what is going on in her life. She's might need to take this opportunity to try and make her life better, and we hope she does.
Meanwhile, Kim is getting a reason to celebrate, and that is a real thing. She's happy about something, and that is a lovely first for her since her son is not going to come back to her after his death. Things are never going to feel good for her, but there is a good chance she can get this situation to work for her if she has to. She might find something is going to happen that might just show her that while her world will never be the same, but she can find some happiness that she might just enjoy for some time to come. We don't know if she can do it, but we know that he is trying. Trying isn't what will hurt her, either. She has to find something in life to enjoy now that she's in such a dark place. She may feel guilty for it, though.
What's Happening on General Hospital
Beautiful well-acted scenes from @IngaCadranel and @1SteveBurton! @GeneralHospital #GH

— Frank Valentini (@valentinifrank) July 5, 2019
Is there ever a time when they are not beautifully acted scenes?
What's Next on General Hospital
"May I have this dance, Mrs. Baldwin?" #GH pic.twitter.com/IjAcUXjW8u

— General Hospital (@GeneralHospital) July 4, 2019
Ava rarely finds herself in a situation where things work in her favor, and we get that. She's a woman who has a lot more to offer than she thinks she does, but she never goes far enough into her own life to make sure she can offer those things. She's got life issues she struggles with, and that is her own issues. But, we also think that there is a chance she can get her situation under control if she allows herself to do it. She might have a powerful life situation on her hands, but she is distraught about something that is driving her crazy in every manner of speaking. She is upset, she is not feeling well about things, and she is not going to find herself in a good place.
Meanwhile, we know that Drew is going to show his forgiving side. He's been living a rough life since losing the son he only just met a few months ago, and it's been rough for him. He's got his son's mother coming on to him, and things are not going to work in his favor if he continues down this path. But, he's feeling forgiving and good in the moment, and that is really a good thing. We cannot help but wonder if there is anything we can do to see that through, but we know that there is always something going on that might change the future for a man like him who no longer feels tied to Port Charles without his son present.
Stay tuned for more General Hospital and be sure to check out TVOvermind daily for the latest General Hospital spoilers, news, and updates.