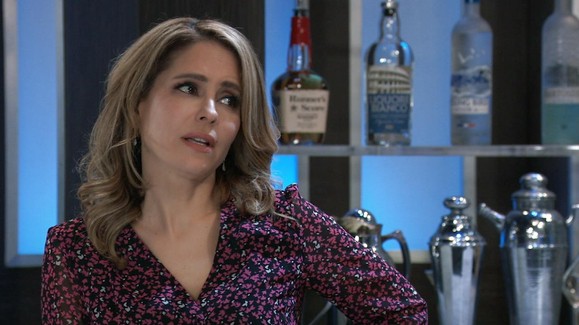 General Hospital fans are worried for Michael. We know that he has to prepare as best he can for all of this, but he's not the horrible kind of guy that Nelle is a woman. She's walking in without any cares in the world, with a grand entrance on her side, and with so much confidence that it's killing him from the inside out. She's got something up her sleeve, and we know that whatever it is cannot be good news for anyone else. There's too much going on around here for that to work. But, for now, we also know that there is nothing he can do but allow Diane to prepare him for this the best way she can. He needs her help, and he needs to focus on himself. He's got his friends and family around to help, but they can only offer so much support right now.
Carly isn't happy. She likes Willow, her son's friend. But she knows that Willow cares for Chase and that Chase and Sasha were kissing and hurt Willow. She also knows her son has feelings for Sasha, and this is not good news for any of them. She's assuming that there is something going on, though she's not sure what that is. She's taking her concerns to Chase, and she's confronting him with a few things of her own. But, is she right about any of this, or is she simply working harder than she should on things like this? We don't know what is going on, but we do know that there is a situation at hand that allows her to see that things are not what they seem. Right now, she knows that she has to figure this out for the sake of everyone she cares for.
What's Happening on General Hospital
Michael and Willow's wedding was a family affair! The Quartermaines and Corinthos' would have it no other way. #GH #BehindtheScenes pic.twitter.com/ei20OmtEPh

— General Hospital (@GeneralHospital) May 13, 2020
These are so pretty.
What's Next on General Hospital
"Where's Nelle?" #GH pic.twitter.com/RzfB11z58n

— General Hospital (@GeneralHospital) May 11, 2020
Hello, Flashback Friday. The day is here that everyone just loves so much, and we hear it's a good one. We aren't flashing back too far. They're taking it back to 2018 for us so that we can celebrate the 55th anniversary of this show that we love so much, and that's fine with us. We do love to see things like that, so this does work out for us. But, we cannot wait to see how things go next week when we find out more about what we want to know. Will Michael get to keep his son? Will Nelle go to jail for all that she did? Will Carly find out what is going on with all the people in her life, like Chase and Willow and Sasha and their own issues and what they are trying to make happen so that they can help Michael and his baby and his family get the future that they deserve? We cannot decide if that is going to happen or not, but we know that there is some hope for those around them. We know this, and we appreciate this, and we are down for this.
On the next note, we have a few more things to be excited about as May is here. The show is in the middle of May Sweeps, which means that the episodes we are going to see coming up here are going to be extra good. They will be filled with extra drama and craziness, and we love that about everything that is going on. It's good news all the way through. We like it, and we are here for it.
Stay tuned for more General Hospital and be sure to check out TVOvermind daily for the latest General Hospital spoilers, news, and updates.