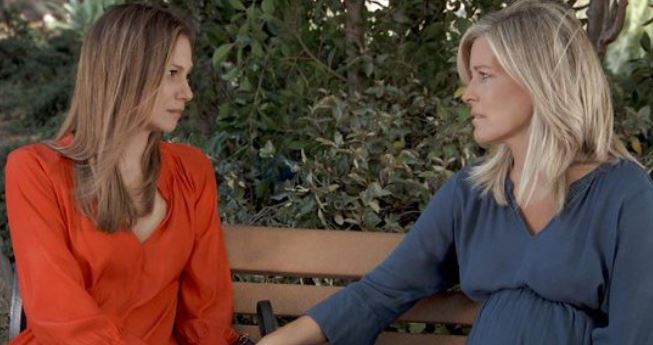 General Hospital spoilers tell us that Shiloh has Sam under his wing, and he is in control of this situation. There isn't much she can do at this point to figure out what she can do to get out of this, but she has to make some choices, she has to make some changes, and she has to figure this out. She's a mess, and we get that. She's a woman who has to make things right in her own life, and he's got her under his control right now. That means he's got some options, and he is using them. Shiloh has made contact with Jason, and he's given him some options. Now Jason just has to decide how he wants to proceed. Does he want to do things the way Shiloh would like him do to them, or would he like to go rogue and do what he knows is right? We know Jason, and we know his decision.
Drew, on the other hand, has a conversation to have; and it is with Sonny. He has to speak with his friend. He has to make things right. He has to decide how he wants to get through his life, and he has to decide how he wants to make this go. We already know he is leaving town and he is not going to stay here. He's lost his son that he didn't know he had until a year ago. He has no idea who he really is. He's lost the only life he knows – which isn't even his life, to be quite honest – and he's just lost. Speaking to Sonny might help him make some decisions, and we think that might change the game for him. Meanwhile, Joss surprises Cameron, to boot.
What's Happening on General Hospital
The Floating Rib has a new queen! @manilaluzon stopped by Port Charles today and we couldn't wait to tell you. Stay tuned… #GH pic.twitter.com/eszmkkg97m

— General Hospital (@GeneralHospital) August 5, 2019
This is so much fun!
What's Next on General Hospital
"If you ever want to see [Sam] alive again, you're going to do exactly as I tell you." #GH pic.twitter.com/RTfqmlc8Li

— General Hospital (@GeneralHospital) August 5, 2019
Shiloh is not in a good place right now. He is a man who is not in a situation in which he feels good about anything, and it looks to us like he is growing desperate. This is not a good look for him, and we assume this means he's going to struggle with more than he imagines he will struggle with, too. He's not going to find that things are overly easy for him, but we do think that he will find things do work out in some capacity. He's been a man who has figured things out so far, and that's all there is to it. He's got Sam on a leash, and he has to figure out if Jason will do what he's asking of him. If he does not, it means nothing good for anyone.
Of course, that also means that there is more to do than anyone imagines. Franco is grateful to Scott for helping him out in a few ways, and there is so much more to that. He's going to find that things aren't always what they seem, which is what bothers him to begin with. He's got to figure out what these warnings mean, and where they are coming from. What do they have to do with the way he is living his life? What do they mean in the grand scheme of things? And how can we fix them? We don't know, exactly, but we can imagine that they aren't good.
Stay tuned for more General Hospital and be sure to check out TVOvermind daily for the latest General Hospital spoilers, news, and updates.