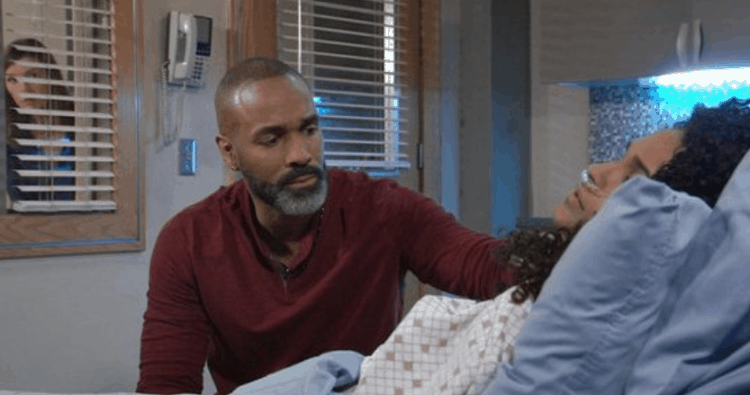 General Hospital fans basically shocked by the fact that all this is happening. We know that Laura managed to get herself free, she's seeking help for her husband, and everyone is now aware that Ryan is Ryan and not Kevin. Well, now Ava knows, too. He's got Carly in the trunk of their car on their way out of town to go get married, and she's figured out that she's in the trunk and that her new fiancé is not the man she thought he was. No, literally. He is literally not Kevin. He is Ryan, and he is evil, and he has the woman who made Ava's life miserable for a long time – as a direct result of Ava's actions, of course – locked in the trunk of his car ready to kill and let himself be free. It's not exactly the romantic wedding situation she was thinking of.
She's shocked, and she's not sure what to do. We don't know what she will do, either. We like to think she will make a wise choice by allowing him to be under the impression she's all in with his plan so that she can keep them safe by remaining free and not a prisoner, too, but it might be too late for that. He saw her shock, and we are not convinced she can play it off as just a big surprise she is totally fine with. Thankfully, Laura is free and she might be able to do something. And Jason knows what is going on, and he might be able to do something, too. This is all falling apart for Ryan right now, which is not good news for either woman he has with him.
What's Happening on General Hospital
Happy Birthday to the beautiful @JackieZeman – every time i get to see you is a gift 🦋🌹you are amazing and I hope you have the best day! @GeneralHospital pic.twitter.com/Pj9dhrauzN

— Eden McCoy (@RealEdenMccoy) March 6, 2019
Happy Birthday to this wonderful actress. We love a birthday.
What's Next on General Hospital
WATCH: Ryan losing control over the situation can only mean bad things for anyone who gets in his way. @thejonlindstrom #GH55 pic.twitter.com/javkIybO7X

— General Hospital (@GeneralHospital) March 7, 2019
Kevin is going to be mapped out with his situation right now so that he can get out and get free and so that he can make this all stop. He knows what is going on even if he cannot see in the moment, and he is the biggest help anyone has right now stopping Ryan, but we do suspect that all the teens are in big trouble right now, too. We don't know what might happen here, but we suspect that it will turn into a thing. We know that Jason is too late to find Carly, but is he too late too late, or just too late to find her where he thought she was before she is moved? We hope that he's just too late to find her in one place and she's all right and moved through another. Julian, on the other hand, is putting Alexis through a lot right now, and she's not going to be happy about it. He has some words for her, and she's got some for him, and we can't imagine this will end well.
We are worried for Carly and for Ava, but we think they are two strong women who might be able to figure this out and take down the man who is trying to kill everyone. And when Ava realizes that it was him who killed her daughter, she might just kill him herself. And they will be free and all will be well, and they can go back to their usual lives of being enemies and being monsters.
Stay tuned for more General Hospital and be sure to check out TVOvermind daily for the latest General Hospital spoilers, news, and updates.