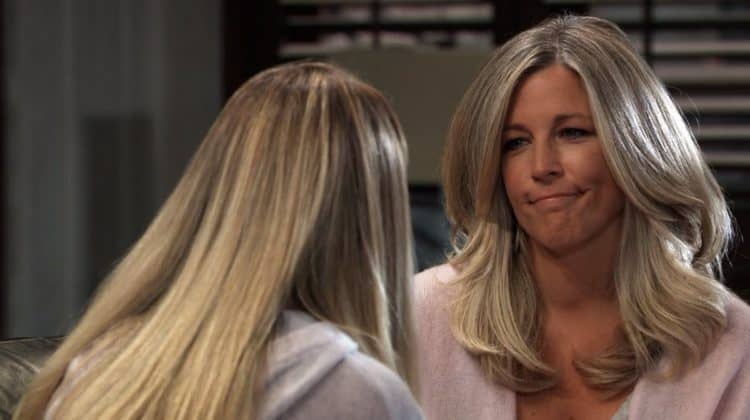 General Hospital fans had a rough week watching the show. We are still shocked that Nikolas is back and that things are unfolding for him the way that they are. We are all in shock that his life is what it is, and that things are going down the way that they are. We are all in a place where we simply cannot figure things out, we don't know how to focus, and we cannot get over what is happening. We are all shocked, confused, and sure that things will change. Sam is still a mess. Sonny is a man who wants to make things right, but he's not sure where he is right now in terms of fixing his own life. Then there is Carly, who is not doing anyone any favors by keeping secrets for and with Jax. She knows that she knows too much, but she has to keep quiet about things or she will not be able to focus more on what is going on in her life.
Then there is Cameron, who did get to see Sonny when Liz brought him by. She's in the middle of more than a few things we don't think she should be in the middle of right now, but that doesn't seem to matter so much to her. She seems to be quite happy with where her life is going, what is going on, and how things are going to work out. She's had a conversation with Finn about his future with Anna, and he admitted to her that he needs to get through things just as much as she needs to get through things if they have any hope of a future. Then there is Julian, who will insist on continuing to make his son's life miserable for now.
What's Happening on General Hospital
Get your holiday shopping started early!
The ABC Shop is offering "Friends & Family" savings for a limited time. Get 20% off of everything until midnight ET on Monday 11/18/19. #GH
Click to get started: https://t.co/dc76V6u3IW #GeneralHospital pic.twitter.com/kMa4g7CwdA

— General Hospital (@GeneralHospital) November 14, 2019
We love shopping discounts.
What's Next on General Hospital
"Hey, Finn… I'm home!" #GH pic.twitter.com/tIvXQJwSbj

— General Hospital (@GeneralHospital) November 11, 2019
Jason has to give a statement, and we wonder if he will lie about it. We thought he'd give it last week, but as most shows were not airing because of the impeachment debates, we didn't get to see it, so this might sound a bit like a repeat. There is not enough information yet about how he will react to the questioning when he gives his statement, so we don't know if he will incriminate anyone else or if he will be able to keep things as clean and tidy as possible. This could go either way, but we are certainly hoping it will all go the right way. We don't know for certain, but we think we can see things unfolding in positive manner if we put our minds to it, right? There's so much here that might work.
On the flip side, we know this is when Finn and Liz will continue their conversation about the way things are going and how they will work for everyone. They have so much more to talk about, and he has so many feeling she cannot handle. She wants to help her friend, but he is so into what is going on in his own life that he doesn't appear to have the capacity to separate himself from what is happening enough to bother with what is going down otherwise. It's a lot, but we get it. We know that this is not going to be enough for all the people.
Stay tuned for more General Hospital and be sure to check out TVOvermind daily for the latest General Hospital spoilers, news, and updates.