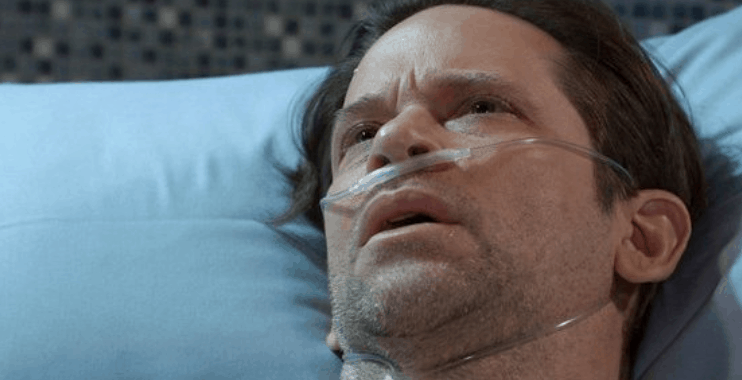 General Hospital fans know Laura is worried for herself and for her husband, but she's found a way out. We know it will not be much longer before she can find help but getting out of there in time is going to be a big problem. Liz has found Franco and cannot stop trying to save his life, and then she's finding out that the teens are all on their way in the same direction that Ryan is in with Ava, and without anyone's knowledge, with Carly in the trunk. She's seen too much of the secret he's been keeping, and now she knows he is not who he says he is. Jason went to Julian for some information, and we think the might get it. He knows that Ava came to see her brother before taking off with Kevin (Ryan) and he knows that Julian might know where they are going.
Ava has no idea that Carly is in the trunk of their car and that Ryan is Ryan or that he is a killer, but she might not even care. She knows that Carly changed her own life forever when Ava was caught switching Carly and Sonny's son's meds, which led to his death. They blamed her, and they caught her in a fire that changed her face and her life and almost killed her. If she finds out that Carly is in the trunk of her almost-fiance's car, she might just be okay with it. It's not like Carly is a friend at all. But we are still not in a position to feel comfortable with anything until Jason can get to the bottom of all this since Sonny is preoccupied with the news that Dante is already dead, whether that is true or not.
What's Happening on General Hospital
Hiding their relationship from everyone is easier said than done. How much longer can Jason and Sam keep the ruse alive? #GH is brand-new and STARTS NOW on ABC! @1SteveBurton #GH55 pic.twitter.com/tkfjUxIaXN

— General Hospital (@GeneralHospital) March 5, 2019
We just want them to come out and scream it loudly for the entire world to hear already!
What's Next on General Hospital
WATCH: Laura crawled through hell to tell the truth about Ryan Chamberlain. @GenieFrancis #GH55 pic.twitter.com/IkySIoMmw5

— General Hospital (@GeneralHospital) March 6, 2019
We have a feeling that this might be the day that Ava learns a secret she's not sure she would ever learn. Word on the street is that she is in a situation in which she is completely stunned about something, and we think that what she is stunned about is the fact that either she's learned that Kevin is really Ryan, or the fact that the man she's about to marry has a woman trapped in the trunk of his car as they are off to their wedding. We think either would be enough to shock her, but that doesn't mean she cannot find a way to get over it. She's not exactly the most honest or reliable person in the world, either, and that's going to be a thing. She might not have a big problem with it, but we don't think she will love it. She's got a hot temper to say the least.
Then there is the fact that Jason is no longer concerned. He is nothing short of desperate at this point. He is not happy that nothing is going right for them, and he now knows that something is very, very wrong with Carly. He is not going to stop until he finds her, but he's not sure where to start, what is going on, how this will work in his favor, or what might happen. For now, though, there is something that will make him motivated to find her, but we are not entirely sure we know just what that motivation might be. Could it be more than we are thinking it might be?
Stay tuned for more General Hospital and be sure to check out TVOvermind daily for the latest General Hospital spoilers, news, and updates.