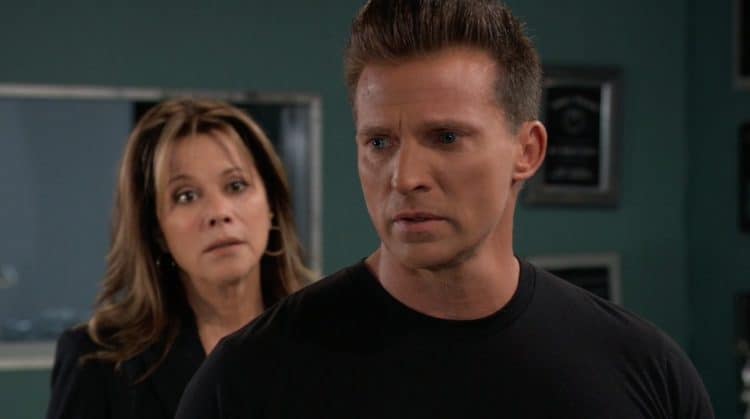 General Hospital fans know that Ryan will continue to do anything and everything in his power to make life miserable for Ava. He is clearly a deranged man who will go out of his own way to make things worse for everyone around him, but we cannot handle this in any capacity when it comes to Ava. She is trying so hard to ger her life in order and to be there in a way that improves her. He will not allow her to do that, though, and she's miserable. She's unwell to the point that she collapses, and there is nothing that anyone can do for her other than try to help her through this. Is there an underlying health concern she must worry about? Is this something else that is not going to work out for her? Is there nothing else that can be done for her with him there?
Additionally, is there more that we can see happening for Brad? He's gotten some flowers, but even the beautiful bouquet is not going to brighten up his life. In fact, there are so many issue in his life right now that they will only serve to make him feel so much worse about things going on around him. We cannot help but wonder if there is a chance this will improve, but this is not going to be a situation we can get on board with otherwise. We know that things are never what they seem, but we cannot help but wonder if things can improve for anyone around here. Everyone is struggling so much, and it's going to be a horrible situation if things don't improve as quickly as possible for people. We can't be sure this won't get better, but we can't be sure it won't get worse, either.
What's Happening on General Hospital
Tune into @TheRealDaytime today – @donnellturner1 is sitting down with the ladies for a HUNK-filled segment. Don't miss it! #GH pic.twitter.com/z2Eq8rEZxk

— General Hospital (@GeneralHospital) October 21, 2019
We do love this.
What's Next on General Hospital
"The patient in that room is… my daughter?" #GH pic.twitter.com/jLQmnw9p8L

— General Hospital (@GeneralHospital) October 21, 2019
Jason is going to go to Laura and look for some answers. He's not a dumb man. He knows her well. In fact, he's known her his entire life. He was once very close with her own son when he was in town and things were different. There is nothing like a woman who knows everything going on in town, and he's aware of this. He's going to look to her to see if they can come up with something that might explain so many of the things going down in Port Charles right now, specifically as they pertain to Sam and her future. Laura is a good person, and she will help him if she knows anything. We have no doubt about that, but we worry that she might not be as invested int his situation as she is others that are going on right now.
Meanwhile, we also know that there is a lot going on with Liz. She and Julian are in a similar boat right now as they try to focus on what happened with Franco, who thinks he is Drew living with all his memories from his entire life, and Kim. They are both horrified, hurt, and upset, but she's going to say something to Julian that we think will really resonate with him in a way that he cannot deny. We hope that he can see things differently and that she can help him through this, but nothing surprises us anymore. We hope that they both find some peace and comfort in this time of terrible behavior.
Stay tuned for more General Hospital and be sure to check out TVOvermind daily for the latest General Hospital spoilers, news, and updates.