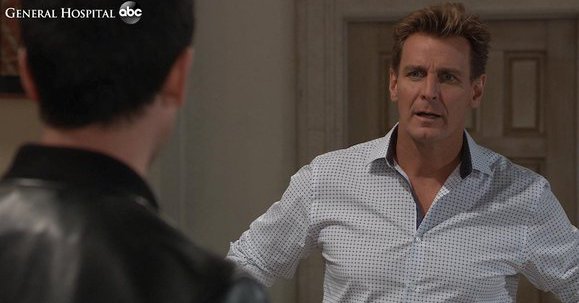 General Hospital fans aren't sure what Nelle is up to, but we know that it's never a good thing in anyone's life. She is a terrible, no good, bad person who does things that make people miserable and unhappy, and we cannot do a thing about that right now. But, we can sit back and try to focus on things that might work out otherwise. For example, we can see that there is not much Lulu can do that will bring her peace in her life. She's never going to get over her husband taking off like this, or that his father is okay with it, or that things are happening the way that they are. She is going to panic this week, and we don't see things getting any better for her in the near future. She is simply not the type to allow things to work for the greater good without some sort of problematic situation at hand. She's got a lot on her mind, and we are simply not sure she can focus on things.
Then there is Valentin, who is about to get a phone call that throws him. He's learning a lot of things that were not part of his plan right now, like Nina finding out about Sasha, like Michael continuing to support her even though Valentin is not on board with that, and now that Nikolas is back, we cannot see him being a very happy camper. But, that's a thing we have to focus on in another manner. We have to see things through as far as we can, and we have to focus on things that might work out in the long run. This might not be it, but he will get this call and it will change the game for many.
What's Happening on General Hospital
We couldn't let @bradmaule leave without taking some new family photos! @RyanCarnes1 @JackieZeman #BehindTheScenes pic.twitter.com/vBpkbzpJB0

— General Hospital (@GeneralHospital) November 8, 2019
We love it!
What's Next on General Hospital
"I don't want my mother to know that I am alive." #GH pic.twitter.com/jnZFquOKwr

— General Hospital (@GeneralHospital) November 4, 2019
Carly is someone who has to be very careful when it comes to Jax. He would probably take her back in a heartbeat and make Sonny feel horrible, but she knows this. She also knows that her husband would not be entirely thrilled to find her making deals with her ex behind his back, but that's what she's doing today. We do not know the exact terms of the deal, what it entails, or what she wants from it, but we do know that she is out to get what she's looking for in life, and she's looking for it from Jax. At the same time, he will be more than happy to make sure she gets what she wants and that things take a turn for the better for her, and that's all right with us. We don't know what might happen, but we do expect a few things will turn around.
Jason is visiting Valentin, which will not go well. He knows this, though. He knows that this man is a questionable character at best, and he knows that he killed Nikolas, who is not actually dead. This is going to be a big story in the coming days, and we suspect that no one will be more upset about what is going on than Valentin. Nina, on the other hand, is entirely frantic about something. We might have an idea about what it is, but we are not entirely sure that we are correct in the matter. She's a mess, and we don't know what has her upset today.
Stay tuned for more General Hospital and be sure to check out TVOvermind daily for the latest General Hospital spoilers, news, and updates.