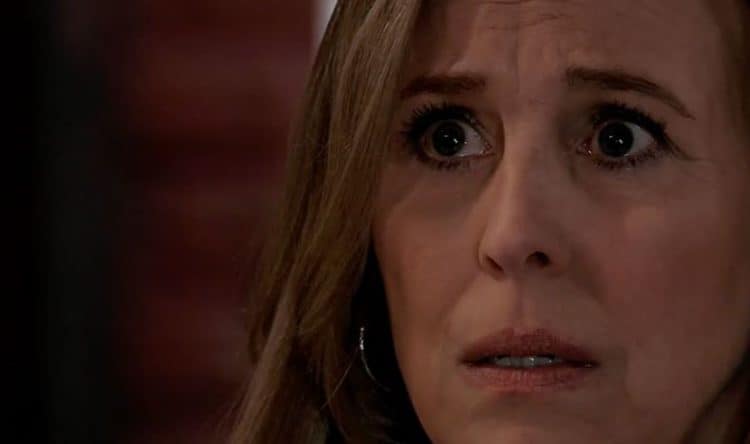 General Hospital fans are going to all the interior feelings of sadness to look for something happy right now. We are all glad that Joss is there to support Oscar, but how much support can she really offer her friend when she's going through all she is going through in her life? She's been in a bad place for some time, and we know that this means she's got a lot to deal with, worry about, and focus on for the many people who are in her life. But, she's not going to sit back and allow her dying friend to go without her support. That's what we love about her, and it's always what reminds us that no matter what she's going through, how she's behaving, or what awful things she's been up to, she's still got a chance to pull herself together and make it all right in her own world.
Sam, on the other hand, is feeling left out. Everyone in her life is doing things that don't involve finding someone who she can't figure out is stalking her. So many people are looking for ways to get their own lives together, and we are just sitting over here wondering if there is anything that we can do to make sure we like this. She's got Jason, though, and she does like that. Lulu is working on all the things to find out what is going on around her. Jordan seems to have found some really important information, though she might not realize that yet. And Sonny is struggling with all the many things going on in his life at this moment. We get it, and we like it, but we don't know that this is going to be the best thing for them.
What's Happening on General Hospital
https://twitter.com/GeneralHospital/status/1082692099537944576?ref_src=twsrc%5Etfw
We love birthdays. Well, we do. But we mostly love cake. What's your favorite part of birthday celebrations? And don't forget to head over to social media to wish this guy a very happy birthday.
What's Next on General Hospital
"I need a doctor!" #GH55 pic.twitter.com/f8JMXIWqnn

— General Hospital (@GeneralHospital) January 8, 2019
Sonny is worried for Lulu, and that means he's going to spend some time checking in on her to see if they can get this situation to work in their favor. They are not always on the same page, but he knows and cares for the girl who is his daughter-in-law. And that means he will do anything he can to make sure she is safe and happy, even if that means finding the time to check in on her when he's not got the time to do that. He's so busy with the many things that he has going on in his own life that he's not always sure he can focus on what is going on in the lives of others, but he will do it.
And then there is Jordan, who is going to open up to Margaux about all she knows about what is going on. She will share what she's learned and how it works for her, and we have to wonder if there might be more to this than we are thinking will work. There's not much going on otherwise, so we think that there might just be a chance that she could divulge something she's not sure she should. Or at least something that she's not sure will make that much of a difference in the grand scheme of things in their lives. This is going to be interesting, and we cannot figure out how to make it less intimidating for those she is after. They will make someone pay for all of this – and we worry about who.
Stay tuned for more General Hospital and be sure to check out TVOvermind daily for the latest General Hospital spoilers, news, and updates.