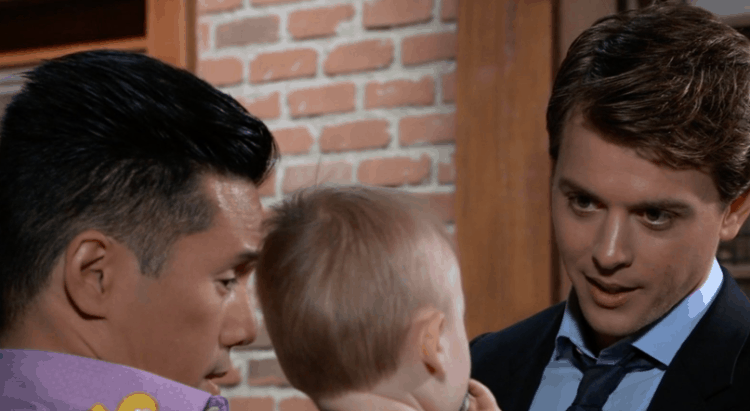 General Hospital fans know that Carly had a rough night. She didn't sleep well. Things did not go her way, and she's suffering more than she cares to admit. But, she's also a person who is trying very hard to make amends with her life, and she is trying to make it right. Sonny is doing his best to be there for her, and we aren't sure how that works for her. She's so indecisive about so many things right now. Meanwhile, we are worried about Brad and Lucas, who are worried about their baby. They are worried that Willow and/or Shiloh will come into the picture in a really legal way and take the baby from them. Of course, Brad is under more pressure than anyone right now. He's the only one who knows that his baby is not the baby that Willow gave birth to. Her baby is dead, and they have the baby that Nelle gave birth to. Michael is his own son's Godfather.
And that is not a good thing. But, we know that they are worried that there is a problem. Chase is a very unhappy about so many things, but we know there is very little he can do now that will change that and make it better. For now, though, we also know that there is a big chance that things will take a major turn for someone. TJ knows that there is a DNA search situation on hand, and he might be on to something that no one else knows about. Will this be the beginning of a total shocker that will bring everyone into a situation that makes the truth seem obvious? Or, will we continue to watch things unfold slowly and in a way we find frustrating?
What's Happening on General Hospital
Jason and Sam find themselves in a strange bed! @1SteveBurton @kellymonaco1 @GeneralHospital #GH

— Frank Valentini (@valentinifrank) July 1, 2019
We are just glad this is where they found themselves.
What's Next on General Hospital
https://twitter.com/GeneralHospital/status/1145791686876024834?ref_src=twsrc%5Etfw
Alexis is a woman we know well. She is classy, elegant and always put together. It's not something she does on purpose, either. She just is that kind of woman. She is someone who is wise and intelligent, and she knows what she is talking about. She's got a lot going for her, and it's rare to see her in a situation in which she is not on her A game. However, that's what we are about to see, and we know it probably has a lot to do with her family and the stuff they've been going through as of late. Both of her daughters have been through more than she wants to see them go through again, and she's making sure it doesn't happen. In the meantime, however, someone is going to catch her off-guard, which is not something you see all that often. For now, we are going to speculate on that one, and we are going to see if we can find a way to make it seem better than it is.
Joss is going to get an invitation, but we don't know what kind. We know she's been in a sad, dark place since her friend died, and we don't blame her. We hope her invitation is from a friend who wants to be with her for something fun and enjoyable, but we also know that she's not really someone who has spent much time with her friends lately. Maybe someone is willing to be a new friend, and that someone is a helpful person who doesn't have anything negative to bring to her life.
Stay tuned for more General Hospital and be sure to check out TVOvermind daily for the latest General Hospital spoilers, news, and updates.