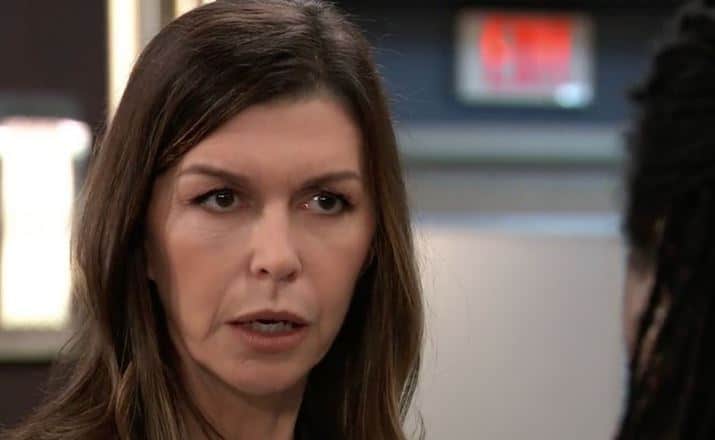 General Hospital fans are not all that sure that Ava will ever change for the better, and she really does go out of her way to prove that to us. She's put on the spot in the moment when she has to make some decisions. Her daughter is dead, and someone is going to make her feel very uncomfortable. She's being forced to talk about things she did not want to talk about, like the fact that she and her daughter don't really get along all that much and all that often. They started off this year on a better note that usual with Kiki being there for her through her surgeries and all that, but the thing with Griffin got it all messed up again. Now Ava is on the spot being forced to relive all this bad news and these terrible situations and all the things that aren't going her way.
And that's awkward. And then there is Chase, who found a clue. But he might not know what it means or even how it affects his life or the lives of others around him. He's in a situation he cannot control at the moment, and he's not sure how to handle that or look at it with any objectivity. Maybe he can help, but we really aren't all that sure about that in the least. We aren't sure he can help, or that he can do anything that will work for the people in Port Charles. Finally, we know that things were a little more than awkward when Sonny ran into Margaux. They had a talk recently, and this is one of those moments that neither of them wanted to go through. It was definitely uncomfortable for all involved in this.
What's Happening on General Hospital
We're thrilled to present: Mr. & Mrs. Curtis Ashford! 💍 #SocialExclusive #NewPhotos #GH55 #JustMarried pic.twitter.com/u7sq28DRus

— General Hospital (@GeneralHospital) December 4, 2018
If those aren't official wedding photos, we don't know what are. These are gorgeous, and we are just excited to see them and all that they have to offer.
What's Next on General Hospital
"I don't need to see a psychiatrist… but I think you do!" #GH55 pic.twitter.com/UvRj9IuqfU

— General Hospital (@GeneralHospital) December 3, 2018
Julian has been living in a sort of limbo for some time. He's been more than a little cranky. He's been more than a little upset. He's been more than a little combative. He's trying to accomplish a few things that just aren't working for him. He's not in a good place, and he's working on a few things that just aren't working for him. This means he's going to suffer in a way that won't work out for him. He's not going to have much help in the meantime, and things aren't going his way. He's in a bad place, and there is nothing he can do about that unless and until he decides to change his life for the better. For now, though, he's just going to sit back and allow things to work in his favor. He's not going to be happy, but he will rage it out until he can get a few things to go his way. Will this work for him, or will he need to find a new approach to his life issues?
Additionally, we are going to see that Franco is going to start a day at Art Therapy, and we wonder if it's going to help him. Will this turn into something that will help him in the long run, or will it only serve to make him more obsessed with his past and the things that he cannot seem to let go? He's in a bad place with all of this, and he cannot continue to live in the past. He's doing just that, though, and it's proving to be a major problem for his future.
Stay tuned for more General Hospital and be sure to check out TVOvermind daily for the latest General Hospital spoilers, news, and updates.