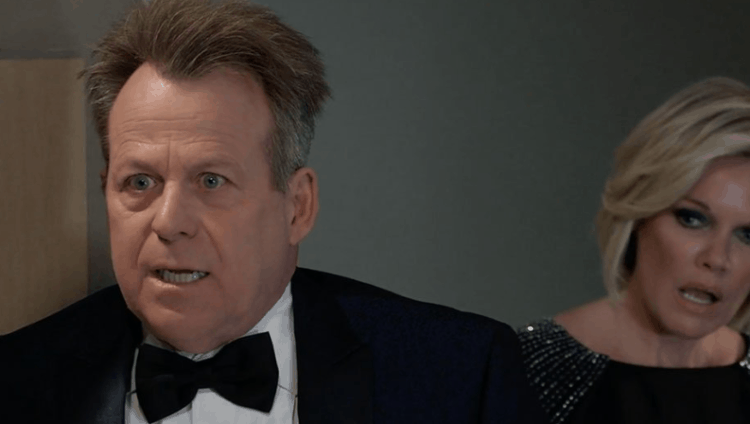 General Hospital fans are not surprised that Jason received the call that he did, nor are we at all surprised he handled it the way that he did. He is a man who has a lot to offer the people in his life, but they sometimes turn to him too much in some situations. He will always help, of course, and that is what we all love about this man. Meanwhile, Molly and Kristina think that they can work things out on their own, and they are sharing what they feel needs to be done with Peter, who is not aware of what is going on to the full extent. This is a classic example of what happens when you don't know what is going on, you are told to mind your own business, and you take it upon yourself to make assumptions. Things get out of control, lives are put in danger, and people are not safe. This is what they are doing, and Peter has no clue.
He's sharing Molly's idea with Maxie, who is all on board with the many things that they think they need to do to get this situation to work in their favor. She's a person who wants to help, and this might not go the way that she had planned or in store from the start. Things are not going well for Sam with all these people in the background thinking that they can help her more than she can help herself. The assumptions and the miscommunications and the secret-keeping are a major problem for most people, and we get that. We get that it's not a thing we can focus on more than we should. It's not good news for anyone, but it's happening regardless of anything else.
What's Happening on General Hospital
"Anna Devane will you marry ME!?" I mean… Who doesn't want @finolahughes ❤️ https://t.co/QFvFvAMMjO

— Michelle Stafford (@TheRealStafford) May 20, 2019
We are totally in agreement with this one.
What's Next on General Hospital
WATCH: Curtis and Laura fight for their lives. Plus, Nina gets an eyeful of Jax and Lucy takes matters into her own hands. 🥂And the 2019 #NursesBall has barely begun… @TheLynnHerring @thejonlindstrom #GH pic.twitter.com/hu8mSPIySj

— General Hospital (@GeneralHospital) May 18, 2019
Kristina is sure she is aware of what is going on with her sister. She was there, and now she is fixed. She was able to get her mind back and overcome the brainwashing that was her life for so long even when her family tried to help her. They could not because Shiloh was so far into her mind with the things that he told her and the way he was, and that was a problem for her and for all of them. But, now she is in a different place. She is in a place where she is right, and things are all right, and she's not struggling anymore. She's been cured of these things, and now she is just worried that her sister is in the same place. She's also feeling responsible for this because she put her sister in this place. She is convinced that this happened, and she is upset by so many things. For the record, though, we think it's sweet how concerned and worried she is. She must be so confused by how no one else is as worried as she is about Sam.
But, she will confront her about it. Will Sam keep her cover to ensure that nothing is compromised, or will she share with her sister that she is not in this place and that she is not this person and to trust her? Will she be able to make her believe she is not in danger, or will Kristina continue to work to save her and ruin it all before it's done?
Stay tuned for more General Hospital and be sure to check out TVOvermind daily for the latest General Hospital spoilers, news, and updates.