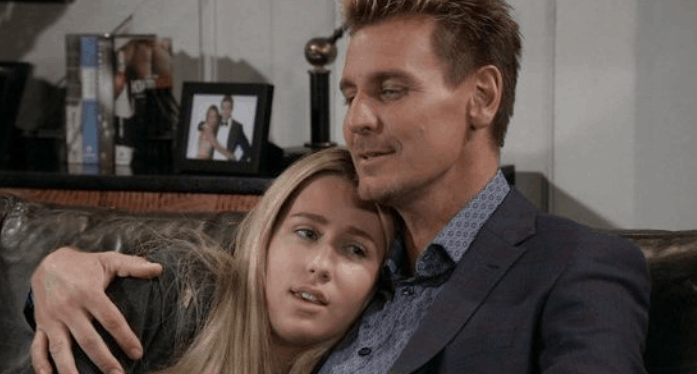 General Hospital fans are overjoyed that Kristina is making a breakthrough and a comeback and things seems like they will work out. They know that there is probably a lot more needed and a long way to go to make this young woman's life good again, but we know that there is nothing that will change the way things are going otherwise. We know that things will change for the better, but not if people keep jumping the gun. Did Jason make a massive mistake breaking down the doors at Dawn of Day without anything else to work through? Or, was he simply doing what he had to do to save the woman who he loves so much? We think he might have been a bit premature, and we aren't sure Sam is overly thrilled with his way of living right now. But, she can overcome this and salvage what is going on. Of course he is upset that she is there. She can play it off like that, but that she does not care.
Jax had a big surprise for Carly, and Sonny is not a fan of that, but he's not here to get his ex-wife back – at least not right this moment. He's back to be sure his daughter is all right and things will work for her. He wants to be here for her when her friend dies, and it will happen sooner rather than later. He is here to be the dad he needs to be for his little girl when things blow up in her life. She's been living a rough life lately as it is, and there is nothing that will make this situation feel any better. We know that, and we respect that in so many ways. For now, though, this is it.
What's Happening on General Hospital
The 3rd Annual #GHConvention returns to Burbank this June – and it's bound to be our biggest yet! Meet your GH favorites like @finolahughes (Anna Devane) and more! #GeneralHospital CLICK FOR TICKETS: https://t.co/7ZQ919Jna2 @GeneralHospital pic.twitter.com/22cAj4o6bY

— Creation Entertainment (@CreationEnt) May 8, 2019
Are you guys watching this and making it happen?
What's Next on General Hospital
"Are you guys getting along ok?" 🍑#GH pic.twitter.com/GHrTApZU1U

— General Hospital (@GeneralHospital) May 7, 2019
Kristina is working so hard with her doctor to overcome her mind control, but we can see that this is not a project that will be easy or simple. She is not someone who can just have her mind overturned like this, and she is making it clear to everyone what she is going through. She is having good moments, and she is having bad moments. She's making it clear that she has some life situations she has to overcome, and she's not going to feel good about what is coming to her. She's not going to make this easy on anyone or anything, and she's not going to be able to fight this as quickly as her parents and her friends hoped she might be able to. She's a mess, and she will make it clear to her family that she has a goal, and she will meet it. But, what is that goal, and how will it work for her?
Sonny is not happy about things, and he is working on getting ready for the worst. He knows that things will not be good for him in this moment, and he knows that the life he is living is up in the air right now. He knows things are changing, they are not good, and they are being forced. He knows that he has a chance to make things right, and he has a change coming for him, and he is braced for it. But, will it happen the way he worries it might, or will it all fall into place for him?
Stay tuned for more General Hospital and be sure to check out TVOvermind daily for the latest General Hospital spoilers, news, and updates.