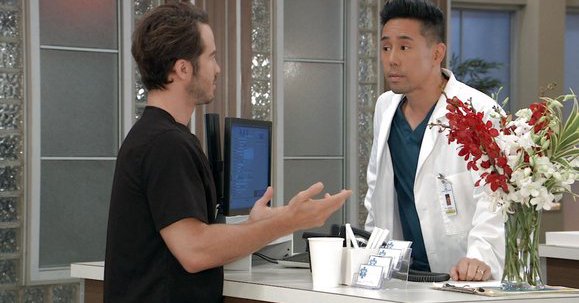 General Hospital fans were not shocked to see Jason go to Laura. She is someone who knows far more about anything in Port Charles than anyone else. If there is any hope to get any answers about anything, she's your go-to woman in charge. She knows things, she is things, and she can make things happen for anyone anytime they want it to happen. She's a rock star for so many people, and they know that. She's able to help Jason even if it's not how he imagined she could help, because that's just how she is and what she can do for those in her life. She is the kind of woman who gets things done, and we love that about her. Hopefully, she can make this situation a little more pleasant for those around here. He needs answers, and we'd like to see him get some.
Meanwhile, Liz has spoken with Julian, and he feels what she has to say. Her words have stuck with him, and they struck something in him that he didn't know could be found. She's not wrong, either. She makes perfect sense in all that she says and does, and that is something that he needs to focus on so that they can just get their lives handled and taken care of in the manner that they were meant to do that. They are both in places that kind of suck right now, thanks to the same two people, and they don't know how to handle their feelings or deal with things that don't happen to anyone they know. They are in a unique situation, and the fact that he is listening to what she has to say does not surprise us in the least right now.
What's Happening on General Hospital
A stunning betrayal rocks Port Charles! @GeneralHospital #GH

— Frank Valentini (@valentinifrank) October 22, 2019
Absolutely stunning.
What's Next on General Hospital
"The patient in that room is… my daughter?" #GH pic.twitter.com/jLQmnw9p8L

— General Hospital (@GeneralHospital) October 21, 2019
Jordan is really going to do some things that might make people feel a little bit like things are crazy. Jordan is going to make a big, long speech about Franco and how heroic he is. How heroic he is for all he has done and been through and navigated along the way, and it's not going to be something everyone agrees with. We know that he is doing things that are not in his control right now, but we think that he wasn't so much a hero as he was obsessed and unwilling to do anything other than find the answers and try to make things work in his favor. We aren't sure there is anything else to that, and this is not a situation we want to bother with in any capacity. It's going to be interesting, and we are not sure Liz will agree that he's been a hero. But, maybe we are wrong about that one.
Liz, of course, is emotional. She's tired. She's upset. She's heartbroken. Her world is something none of us can even imagine at this point in our lives, and we cannot fathom what is happening to her and around here and for her. She's going to be someone who is not going to do the right thing in her life, and she might just make some mistakes trying to move on from this. We don't think she's doing any of it on purpose, but we do think it will happen. Her life is a mess, and her emotions are all over the place. We get it, we appreciate it, and we aren't surprised by any of it. It's all a bit much for us, and we get that it's going to be a situation we cannot deal with.
Stay tuned for more General Hospital and be sure to check out TVOvermind daily for the latest General Hospital spoilers, news, and updates.