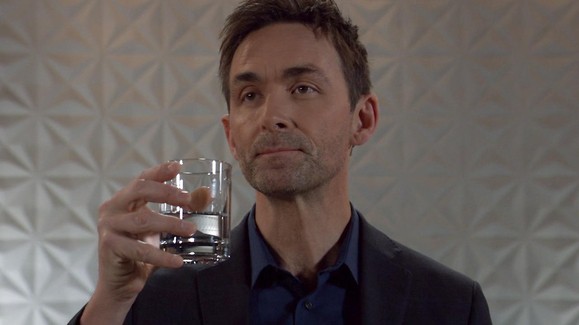 General Hospital fans are shocked. Shocked that with everything that Valentin has been through in his life, he's still going to see his life turn around like this. He's been through a lot, but we know so much of what he's been through has been self-inflicted. He's a man who has made his bed. He's chosen what he's done in life, and he's made his own decisions. There's not much anyone can do other than focus on how much that will change his life from now on, but it's getting darker and much worse for the moment. He's hitting rock bottom, and there might not be anyone or anything that can help him. He's going through a lot and it's a bit much even for someone as strong as he is. He's losing his mind, and he's out of control, and he has no idea how much he can take of this.
Alexis is not happy, but she's offering her support to those who need it. She knows people have a lot going on right now, and she also knows that they need her more than they ever did, and she's there for it even if she's not in full agreement about it. She's so upset by so much right now, but this is one of those things that might make things seem different and feel different, too. Willow is in a bad place right now, but she's about to find that she's going to be interrupted, and it might not be something she can handle. Things are not going her way in life lately, and she's finding there are too many things going on that she cannot control, and this might be yet another of the many things that are falling apart in her life. She's a mess about it.
What's Happening on General Hospital
Brad gets a lead on a ticket out of all of his problems. @parryshen @GeneralHospital #GH

— Frank Valentini (@valentinifrank) February 13, 2020
This isn't good.
What's Next on General Hospital
"It was Anna… she's covering for Peter." #GH pic.twitter.com/W0uShCLNej

— General Hospital (@GeneralHospital) February 10, 2020
It's a new week, but that means nothing to Valentin. He's about to find out that his life is never going to be the same, and he's also going to run into Lulu. She's someone with whom he's been a bit unkind for a while. He's had some big situations with her, and he's not going to show her much love. But, right now, she might be someone who can help him out and give him a chance. She is, after all, the mother of his child even though she had no earthly idea she mothered a child for longer than she cares to admit. There will be some awkwardness here, and she's not about to change her mind about this man after all she feels he's done to her – and she is right about all of it, too.
Lucas is going to struggle with some flashbacks that might make things a little bit more awkward for him, too. There's a lot happening here that probably won't give us any of the answers we are looking for right now. It might be some time before we find out all that we really need to know about things, and that's a chance we have to take. Michael is in a rough place. He's got so much going on that might not make sense to him right now, but he's working hard to try and make it make sense. He's working to ensure that some things are going his way, but he has to get control over all of this as quickly as he can, even if he's not sure what this is.
Stay tuned for more General Hospital and be sure to check out TVOvermind daily for the latest General Hospital spoilers, news, and updates.