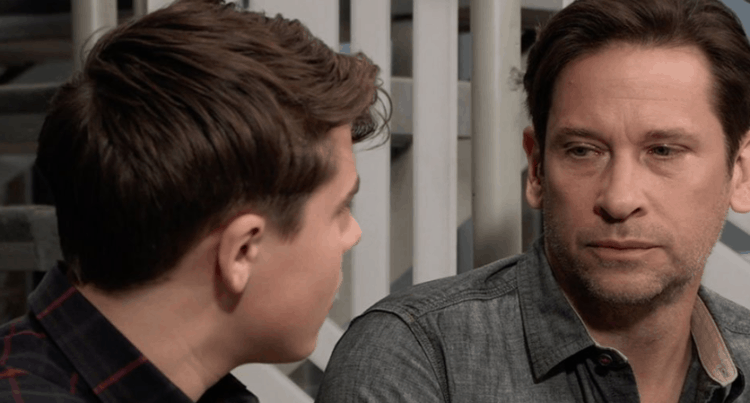 General Hospital fans are not going to have much of a break from the drama this week, but that's why we all tune in, right? We tune in so that we can see things happen, and we know that things are certainly happening this week. Kristina is one of our main concerns. She's living a rough life at the moment, and this is something that she cannot change in her mind. She's not sure how to fix the problems she's living with. She's been mind-controlled and made to feel that her entire existence is difficult. She's been in a situation that doesn't make her feel good at all, and she's been in a place where she's not sure she can break through. But we saw her break through a moment. We saw her laugh. We saw a glimpse of the young woman she once was, and we support that in so many ways.
But, there is so much more happening in her life right now, too, and that will come to head. Jason and Sam spoke this week about a few things that happened, and it was not always the most comfortable situation. Shiloh is causing some serious problems in all aspects of life, and that's not something that can be changed. But, we can focus on things like what will happen when they do take him down. Alexis is still sneaking around, and she's making some mistakes. Oscar's life is almost over, and everyone who loves him is struggling with that knowledge and what it means for them. They are not happy. They are not in a good place. They are not living their very best lives. They are struggling in a way we cannot seem to make sense of, and that's a problem for all of us. But, it will not get better.
What's Happening on General Hospital
Have you wanted to meet all of your favorite Port Charles inhabitants? Come to the official @GeneralHospital convention in Burbank this June! It's now 3 big days and more stars than ever! Get your tickets now! https://t.co/7ZQ919Jna2 #GHConvention #GeneralHospital @SoapDigest pic.twitter.com/XObvj94BRN

— Creation Entertainment (@CreationEnt) May 2, 2019
You guys…this is one of those things you know you want to visit.
What's Next on General Hospital
"I'm going to love you forever." #GH pic.twitter.com/RaqcitsPAt

— General Hospital (@GeneralHospital) May 2, 2019
What. Is. Happening. We don't know. We have no idea. For one, we know that Laura is about to see someone she has not seen in a long time. Years, actually. She's about to see Robert for the first time in many years, and we do wonder how that will go. There is a lot that might happen, a lot that might not happen, and a lot that might go unsaid when they see one another for the first time in so long. But, we are excited about that. We also know that Sonny is going to learn something that will horrify him, but what might that be? What might horrify him to the point that he cannot get his life under control or focus on anything that might work in his favor? What is going to be his situation? We are not sure, but we do know that there is a lot he can bring to the table if he can calm down and think rationally. We just don't know what it is, and it's killing us not to know. On the flip side, we hear that Alexis is about to be overjoyed, which means that whatever is shocking to Sonny is probably not going to be a bad situation with Kristina or even Sam.
Lucy has decided that she's going to set her sights on Kevin, and we cannot help but wonder how this will go. Things are never as they seem around here, and this is not going to end well. She's a woman who has her own agenda – not that this is new – and she usually gets what she wants in life.
Stay tuned for more General Hospital and be sure to check out TVOvermind daily for the latest General Hospital spoilers, news, and updates.