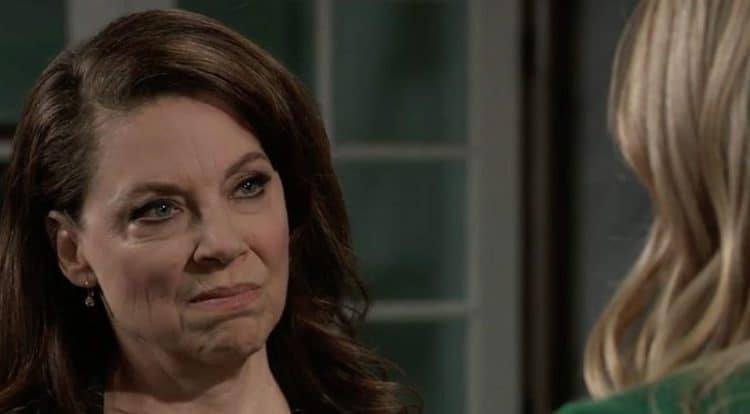 General Hospital fans are very excited about what is going on with Laura this week. She's won, but it's not made official yet in the eyes of everyone around town. However, she's focusing on all the good in her life, which is pretty much the only good going on right now in Port Charles. It's a dark, depressing, upsetting, sad week for many other people. They are all stuck in the sadness that is their own lives, and few people seem to be able to come out of the darkness that is plaguing them to move on to bigger and better things. That concerns us, but there's little we can really do about it at the moment. For now, though, we can focus on the fact that there are some things that just don't work for us. We can focus on Laura's win, but is it really a win when every other aspect of her life is in shambles? Furthermore, we have reason to believe that Sonny cannot make a decision about where he sees himself in the future.
Ryan added another name to his list, and we strongly suspect that Carly needs to be very careful in the future. We think that it's her life on the line, and there is nothing that anyone will be able to do to change that for her. She's not going to find that things are going to be very easy for her in the near future, and that's going to prove a bit problematic for her in the future. She's not sure what Ryan's problem with her really is – but she also doesn't know that he's really Ryan. As far as she knows, he's Kevin, the man who is married to Laura and is nice as can be. But that's not the truth anymore.
What's Happening on General Hospital
Sonny gets an earful about Kristina's new friends. @MauriceBenard @_lexiainsworth @GeneralHospital #GH55

— Frank Valentini (@valentinifrank) January 14, 2019
Well, it's for good reason, too. There's not much about these new friends of hers at all. We are not impressed, and we didn't think you would be, either.
What's Next on General Hospital
We wouldn't cross Ryan if we were you… @thejonlindstrom #GH55 pic.twitter.com/X9G6m9ZXMH

— General Hospital (@GeneralHospital) January 14, 2019
Cameron might not be someone who everyone feels good about, but Josslyn is grateful to him this week. She's been so focused on how she's supporting Oscar and making him feel good about his own decisions, and what Cameron is bringing to the table makes her feel good, but we aren't sure this will last forever. She's a mess, but she's been one for a year or two now. There's very little that might work in her favor if she's not willing to do a little growing and a little bit of change-making. Alexis, on the other hand, is not going to have much to say when she runs into Oscar, or will she? Will she make this an opportunity to speak to the young man about all he is going through and what it means for him, or will there be more to this than we can imagine?
Monica is worried about Drew, but who isn't? Everyone seems to be worried about him, and we think that it's all for good reason. He's not a dangerous man or a careless one, but his life has changed so much in the past year and he's not sure who he is because of it. Literally, he's not sure who he is. He has no memories, and he has a son he didn't know he had, his other kids aren't really his, and he's not who he's been living as for years now. It's a mess, and he's got too much on his plate at the moment. It's not good for him, and it's not good for the people around him.
Stay tuned for more General Hospital and be sure to check out TVOvermind daily for the latest General Hospital spoilers, news, and updates.