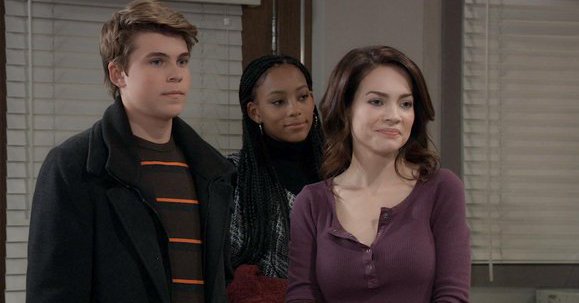 General Hospital fans know that with this big surgery coming up, there are a lot of questions that are on Liz's mind. She's ready to get her husband back in more than just the physical form. She's not loving that the man she married is no longer in his own mind, but that it's Drew in there who is living in her husband's body. She's not loving this. She's not happy about this. She's not in a good place about it, but she is feeling a lot of gratefulness and happiness and things that do make her feel as if the world might not be as bad as she originally thought, and she's asking away about all she can expect and that might happen. What are the risks? What can they expect? How long will it be until she knows if her man is in there and he is coming back to her? We cannot figure this out, but we can hope for her.
Additionally, we know that Laura is up to something regarding this, too. She knows that Peter is a man with many secrets, and he is a man who does nothing good for anyone, and she's about to sabotage him. He put out a hit on Franco so that the surgery never gets to even happen. You cannot operate to restore the mind of a dead man, now can you? But, Laura knows better, she's making some big changes to everything that is happening, and everyone is going to find that there is more to this than meets the eye. For now, though, we can only wonder if she can actually stop him or if her plan is going to do nothing more than just put her at a disadvantage when it comes to slowing him down.
What's Happening on General Hospital
#ICYMI: @LiptonWilliam opened our very first acoustic holiday special with his rendition of "The First Noel." Click the link to watch the entire concert – right now: https://t.co/1Ei8uNwQHT 🎅🏼🎄#GH pic.twitter.com/NQwbEzC68s

— General Hospital (@GeneralHospital) December 9, 2019
If you missed it, go back and watch it.
What's Next on General Hospital
"Oh, my god… Franco?!?" #GH pic.twitter.com/03Oq6kSaBv

— General Hospital (@GeneralHospital) December 9, 2019
Things are taking some big turns around here, and we get it. We know that Nelle is going to make some changes around here. She's going to make a phone call, and we assume it means to someone who can do something for her that will make the lives of other people she knows totally miserable. She's on the hunt to make everyone feel as if things are worse than they are, and she's not going to stop until she feels as if she wins. She's got some plans up her sleeve, and we think she's using them right now. Meanwhile, we hear that Willow is going to be shocked today, and we have to wonder if she is about to find out the truth about the fact that Wiley is not Wiley. Will this be what shocks her? Or will it be something else? Who would tell her today?
Then there is Carly, who is more than a little bit alarmed by something that is going on. We don't know what, but alarmed does not sound good. It doesn't sound like the kind of mood you'd be in when you find out that your grandson is alive and well and has been being raised by someone else for the past few months. Alarmed is not the word we'd choose for that kind of news, so we have to assume this is not what she is about to learn that gives her these feelings.
Stay tuned for more General Hospital and be sure to check out TVOvermind daily for the latest General Hospital spoilers, news, and updates.