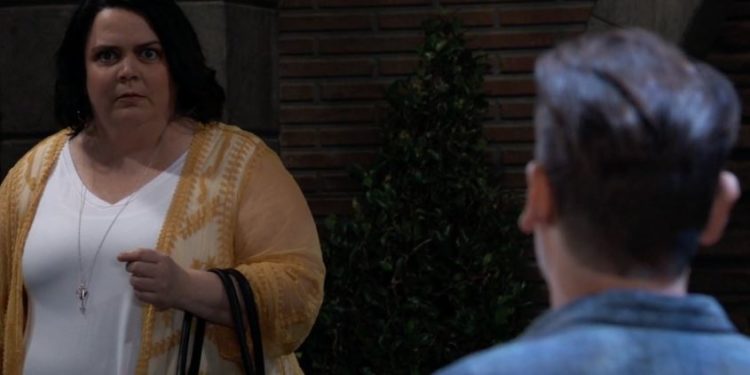 General Hospital fans know that Nina does very little else in her life other than worry about everything that happens, might happen, did happen, could happen, might not ever happen. She's a worrier to the point that sometimes it's ugly and unkind. She's in that mood right now, too, and it's become an ugly thing. She's got a lot to handle, and she's not doing it well on her own. But, for now, she's got to focus on a few other things, too. For one, we have to see her get her life together. She's worried for many reasons, but most of them are things that she's not entirely sure about. She might be worried for Sasha, but her fake daughter is off living her best life with Michael and making a much bigger mess of everyone's lives in the meantime. This cannot go well if you ask us.
Sam is not in a good mood. She's opened the door to find Shiloh at her house. She's in an argumentative mood, and no one will listen to her when she gets like this. She's not happy about the way things went down for her, and she's making sure everyone she knows, loves, and spends time with knows this. Meanwhile, Liz got a phone call that made her feel a little more than slightly alarmed. She's been worried for some time about the way things are going in her life and the lives of others, and it's not looking good for her. She's been constantly fretting over Franco, the kids, Jason, her friends, her family, and everything in between, and it's been a mess. She's now worried more than she was before, and it's not something we think she can just overcome and walk away from in her own life now.
What's Happening on General Hospital
Start your mornings off right with the Corinthos Coffee Collection at the ABC Shop! Click to buy: https://t.co/ZsOb2WwQ89 #GH pic.twitter.com/LpPoRkQCcZ

— General Hospital (@GeneralHospital) August 7, 2019
Who doesn't love the merch?
What's Next on General Hospital
"Proceeding with that boy is dangerous." #GH pic.twitter.com/9mXwRDCoaj

— General Hospital (@GeneralHospital) August 7, 2019
Lucas might not have all the answers to all the questions and everything that is going on around Port Charles and the problems his friends and family are going through, but he's got an update. We don't know if it is a good one or not, but we know he has one. It's going to be a situation he has to deal with on some level, but he's also going to need to focus on things that work in his favor otherwise. He's a man who has to focus on things as they are coming. He has to see things for what they are, how they are going, and what he can do to make them work, and we think he can do it. But, we also know that he has to focus on the way the world works in general. He's got to get it together, but his update might not go over well.
Meanwhile, Peter is going to do anything he can to make sure Maxie is happy with him. She is going to support him, make him feel special, and do whatever she can for him. She's got to make this situation a good one for her, and we think that she needs to let him. She's not sure how she is feeling right now, and she might not be making the best choices, but she's got to let him support her and get her through this on her side. It's going to be what is best for them, and they all know it. Can they make that happen?
Stay tuned for more General Hospital and be sure to check out TVOvermind daily for the latest General Hospital spoilers, news, and updates.