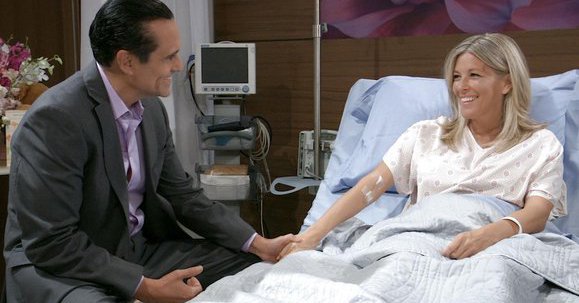 General Hospital fans know that Terry is worried for Kim. Kim is a mess, and we all know it. She did some horrible things, she's had a rough year, and things are not working out for her at all. She's not living her best life. She's not even living a decent life at this point. She is living the kind of life that makes everyone miserable and takes them all into a new realm of unhappy, and we have to agree with Terry that there is something to worry about. Meanwhile, we also know that there's a lot happening with Liz. She's so miserable — and not just because Kim slept with her husband who doesn't know he is her husband because his memories were replaced with those of Drew — but because of everything. She's going to unleash her anger and fury on Julian, and he might just sit back and take it.
Valentin is not a good guy, and we know it, but he created an opportunity for Laura to look into things that she didn't have business looking into. Now things are going to blow up in his face more than they already have, and we cannot await. Julian is hurt by all that is going on, but there is nothing he can do about all he has learned, the things that Liz screamed at him, and the situation he is in. Things are not good for him, and there is little he can do to make his life right. But, there is a lot going on with Kim, and she's making a promise. We aren't sure she can keep it, though. She's not the type to do things that don't suit her, and we all know this to be true.
What's Happening on General Hospital
Nina and Valentin's wedding almost went off without a hitch… almost. @watroswatros @japastu #GH #WeddingAlbum pic.twitter.com/3dP7s76aWQ

— General Hospital (@GeneralHospital) October 7, 2019
Almost.
What's Next on General Hospital
"If I don't do this right now, it will be too late!" #GH pic.twitter.com/SZvd2iuGeT

— General Hospital (@GeneralHospital) October 7, 2019
Spinelli has to get to work to help Sam in the trouble she is in, but will this work? Can they get her back to her normal life, where she needs to be and where she should be? She's had enough going on this year alone to last a lifetime, and there is not a reason in the world she needs to be dealing with this right now when there are so many other things that might be a bit more focused and a bit more exciting than others. For now, though, we can see things unfolding in a manner that might just make everyone feel as if they are dealing with the right things. Of course, there is also the situation in which we can see things unfolding for Peter, when he cringes over what is going on. He's been lying a lot, and he might just have to keep it up. Things are not going his way as much as he'd hoped they might, and it might be affecting his relationship with Maxie more than he cares to admit.
Robert has some news, too, that might make someone sad. He's been dealing with his own fair share of things that might make the world seem like a more interesting place, and that's a situation we cannot ignore, either. There is little we can do other than sit back and help those who need it by watching their stories and hoping they go the way they want them to go, but this one is not going to go that way.
Stay tuned for more General Hospital and be sure to check out TVOvermind daily for the latest General Hospital spoilers, news, and updates.