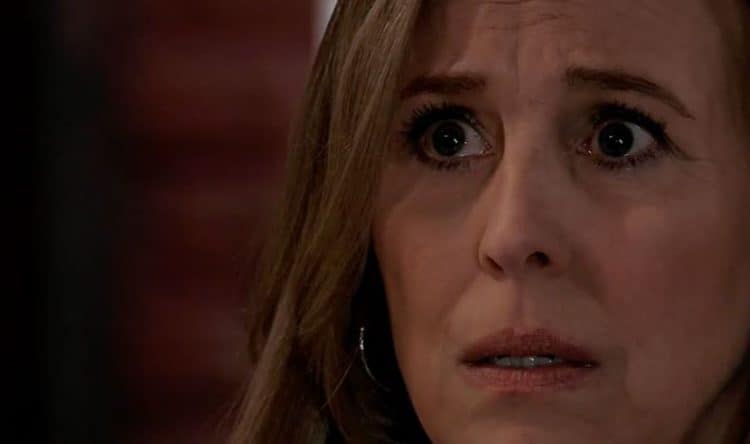 General Hospital fans are watching a lot of panic and worry these days. There's very little to look forward to or feel good about in Port Charles these days, and that makes us sad. We'd love to see something wonderful happen for once, but it seems that the only good thing happening these days is the fact that Sam and Jason seem to be growing closer to one another and opening themselves up to the fact that perhaps they can get back together and be the family that we all know, love, and miss so much in the real world. But, that's about it. Everyone else is a mess. Kristina is a mess who is causing Sam so much worry. Carly is a mess trying to make sense of what happened in her life while also helping the people of Ferncliff while she's not getting much support.
Michael is a mess, Kiki is still dead, Laura's husband is missing and his life has been taken over by his evil twin and not one person seems to realize this has happened. It's a mess, and no one seems to realize that any of this is happening. It's a totally disaster, and we cannot help but wonder if there is anything we can do to see this unfold. It's been a long road for so many people around here, but there are some things that are coming to a head in the coming weeks – we can feel it. The week began with Joss supporting Oscar, which we do feel is good. He needs all the support he can get if we are being entirely honest. And that's good news, but we wonder how long that will all last for him before the world turns upside down once again. It's a lot.
What's Happening on General Hospital
Is this it for Laura? Will she be "Kevin's" next victim? @GenieFrancis @thejonlindstrom @GeneralHospital #GH55

— Frank Valentini (@valentinifrank) January 7, 2019
Okay, so, this crushes us. But at the same time, we aren't surprised this is on the table. In fact, we are a little bit surprised this did not seem to be on the table earlier.
What's Next on General Hospital
"Who are you and what've you done with my mother?" #GH55 pic.twitter.com/f5H2ACqai3

— General Hospital (@GeneralHospital) January 7, 2019
Franco is not the kind of man who regularly makes the right choice. He's not a careless man who does things that are wrong and not good, but he's also a man who likes to focus on one thing at a time, and it's rarely the most important thing in his life. He's got Liz looking to get married and settle down and start their life together, but his desire to find out more about his own life and his past and to help everyone else in the world rather than himself is not going well for him. He is a bit of a mess who cannot seem to get his life in order or get things to work for him. Today, he's going to do the same thing by focusing his attention on things less important. He's anxious and unhappy, and that's not going well for him.
Sam, on the other hand, is feeling left out of many things as the lives of other people are going on around her and her attention and focus is so much into what is going on in her own life. She's not been able to focus much on anything other than helping Kristina and worrying about her while she also looks to see who is stalking her and making her own life miserable. She's so consumed in all of that she's not able to focus on anything else. She's tired and worn out, and it's beginning to show in her life as she's making more mistakes than ever before. We can't comment on how this is affecting her too much.
Stay tuned for more General Hospital and be sure to check out TVOvermind daily for the latest General Hospital spoilers, news, and updates.