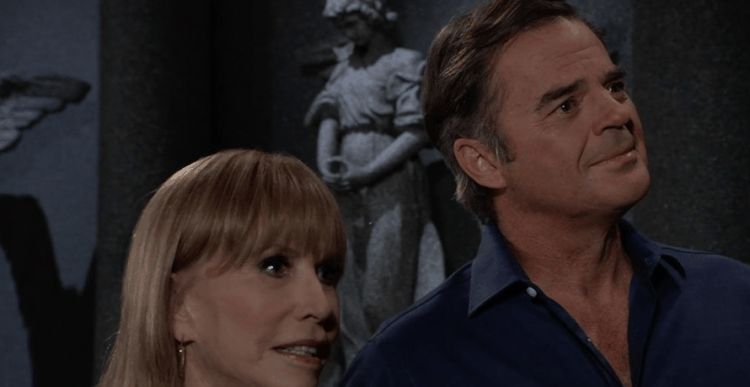 General Hospital fans know that there is so much going on, and we also know that Sam is clearly so distracted. She has all of this going on in her life, and she's got to focus on things like making sure that there is something she can do for her sister. She's working hard to bring down the DoD while pretending she wants nothing more than to be part of their horrible game and their ways, and she's also got to keep her real situation a secret. She's distracted, though. She's missing Jason. She's worried for Kristina. She wants to know how her sister is doing, if she's going to be all right. She wants to comfort her mother. She wants a lot of things that she's not really able to produce at the moment, and we aren't sure how to help her do that, either. But, for now, she has to focus on what is going on in her life. She has to get this back on track.
Shiloh will not let Willow go, and we still cannot decide where we feel that she stands. Is she really a good person now, or is she still in with him and only playing this role so that she can get everything he wants on the outside? Is this how he's been able to stay a step ahead of everyone for so long these days? We are not entirely sure that there is anything that will tell the answer to this other than time. Time is everything right now, and we do want to see more of that in the meantime. We have to focus on that as a whole, but can we focus on that other than to see it through the way it's meant to be? We can't tell.
What's Happening on General Hospital
The 3rd Annual #GHConvention returns to Burbank this June – and it's bound to be our biggest yet. More days, more stars, more fun! #GeneralHospital CLICK FOR TICKETS: https://t.co/7ZQ919Jna2 @GeneralHospital @MauriceBenard @GenieFrancis @SoapDigest pic.twitter.com/JJzQERy7io

— Creation Entertainment (@CreationEnt) May 1, 2019
This looks like the kind of situation fans are going to go crazy over.
What's Next on General Hospital
"I just want you to know how much I love each and every one of you." #GH pic.twitter.com/JNkOrfeWk0

— General Hospital (@GeneralHospital) April 29, 2019
Sam has so much work to do, but she also has to keep the people in her life aware of what is going on. She's got to be honest with them every step of the way even if what is going to happen is not good news for anyone else. There is nothing that will work out for any of them if they don't have much else to offer, and that is going to be their downfall. She is going to tell Jason about the visit she had with Shiloh, even if what she has to tell him is not stuff he really wants to know, hear, or imagine. She has to tell him. And he will then inform her that there is more going on at home, and things might just work out in a way that she never imagined being possible. For one, we think that Kristina is going to make some huge strides when she visits with an old friend and a laugh is shared.
She might not have much control over her mind right now, but she has plenty of control over other things in her life, including the fact that she knows things will work out for her in some way. She's going to get better. We can feel it, and we like it. She's got to. Meanwhile, Alexis is doing all she can to regain control of her own life, and that does mean getting into some situations that make it possible for her to slip past Valerie, though she might not like that.
Stay tuned for more General Hospital and be sure to check out TVOvermind daily for the latest General Hospital spoilers, news, and updates.