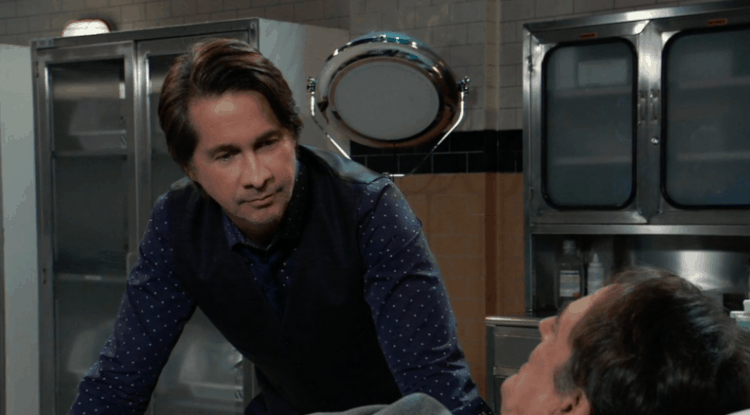 General Hospital fans cannot seem to figure out what is going on around here. There's so much going on that doesn't make sense to us. Why is Harmony so obsessed with making sure Shiloh is aware that her daughter gave birth to his son? And why is she doing this to her grandchild? Even if she does feel that there is something else she can do to get this baby back in her own life, she knows this is not the right answer or the best choice. She knows he is a bad guy with bad guy tendencies. She knows that he is never going to do the right thing, and she knows darn well he will punish both her and her baby if he has the chance. There is nothing here that will ever work in their favor, and we cannot figure that out at all. But, for now, we can see that some things will just work out as she allows them to.
Sam is being taunted by Shiloh, and there is very little she can do about it in the meantime. She's not really in a position where she can come back at him, but Kristina is also hesitant to move forward with the plan that seems to make the most sense. Sonny is unhappy that Jax is back in town, and everyone is just frustrated and mad at everyone else. Julian is working harder than ever to reassure Brad that all will be well and that his son is not going to find himself in any danger. Shiloh, of course, is looking for this baby, and they are panicked that he might have some rights, that he might just take the baby, or that something equally terrible will go down. Julian is working to prevent that, however.
What's Happening on General Hospital
WATCH: @japastu and @TheRealStafford tell the story that @SofiaMattsson1 definitely didn't want them to tell at the #GHConvention. #ICYMI #GH pic.twitter.com/oAOBvaEgk6

— General Hospital (@GeneralHospital) June 12, 2019
They do such a good job of pretending to hate one another on the big screen, though.
What's Next on General Hospital
"But Shiloh, I can kill. And you're right, I don't wanna wait. I don't wanna plan it. I just want to do it and get it done!" #GH pic.twitter.com/WXF4C4yTxa

— General Hospital (@GeneralHospital) June 10, 2019
Things are taking a major turn for some people these days, and it's not a good thing. Shiloh is about to run into Margaux, and we suspect this will take a turn that we did not see coming. We were all surprised that she didn't make a thing out of what happened around here, but we are even more shocked that things didn't work out for anyone in this manner. There is not much that we like to see happening around here that's not right, but this is not something we get. She had a chance to take him down, and she chose not to do it. That makes us wonder what we don't know at this point. It's not something that we thought she would do, but we don't always know what to expect from her, to be quite honest.
Then there is Sam, who is trying to find the bright side of things in her life right now. She's not really able to do that without looking deep within. She feels as if she failed. She feels as if she wasted all her time and put her own life on hold to deal with something, and she didn't even get the end result she was looking for when she did. She's struggling, but we think that Jason is going to be able to help her get through this and face things on her own. He's good for her, and that might just make all the difference in the world for her and for their own personal future together.
Stay tuned for more General Hospital and be sure to check out TVOvermind daily for the latest General Hospital spoilers, news, and updates.