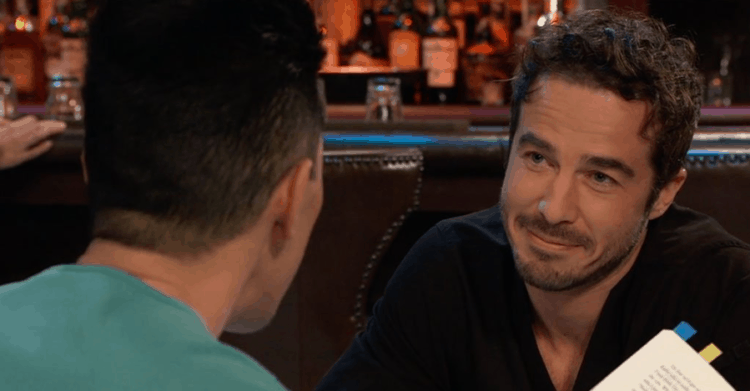 General Hospital fans are not going to be very happy about what they just saw. Jason found out that Brad has an alliance with the DoD, and now he's lying to Jason about things. He's doing what Shiloh is asking him to do, and there is nothing he can do about it. His alliance is with the DoD, and he has no choice. He will be killed or handled or whatever if they find out he is not lying to them about things, but Jason knows. And he will do anything and everything he can to make sure that this doesn't happen. Jason is not amused by things. Things are taking a very ugly turn for everyone, and Jason is not going to be very happy when he gets the final truth out of all the people who are there for him. He's not going to be happy in the least.
And then there is Valentin, who is fighting hard to get custody of his daughter to himself. He feels that she should not be with Lulu or Nina or anyone else, but that she should be only with him in every capacity. He feels that her mother is not able to do this and to care for this child at the same time. Her husband is gone, he's in the middle of all kinds of things that might trickle down into her life, and he is just a spiteful man like that. He is out to get what he wants at her expense, and that is going to be a mess for her and for him. He will do it, and she will fight it, but we aren't sure she has a leg to stand on at this point. She's in a total bind of her own, and that's what she's dealing with.
What's Happening on General Hospital
Why has the "Adjusting Cufflink Pose" become the equivalent to selfie "duck lips" when being photographed wearing a suit? pic.twitter.com/y05C5X5nLL

— Parry Shen (@parryshen) April 12, 2019
Ha! We love this one.
What's Next on General Hospital
"That is how it's done." #GH pic.twitter.com/haO0qt6zSv

— General Hospital (@GeneralHospital) April 15, 2019
Jason is now confirming what he began to suspect when Brad lied to him yesterday. He now knows that this is a man who has been part of the DoD and has his allegiance with them, and this is going to be Brad's personal downfall. No one knew, and he kept that to himself for a very long time. He's also, as we all know, involved in some other things that will come to light here in the near future, and it will all be a situation that will turn into something that doesn't work out for himself, for Lucas, and for anyone else in their lives. This is not a good situation for Brad to have put himself in, and we think he is perfectly aware of just what he's done to himself and his family by finding himself in this situation. But, for now, he is going to continue to lie and do what Shiloh tells him to do so that he doesn't die.
And Sam is making her moves. She's lying, manipulating, and doing all she needs to do to make sure that Shiloh feels she is the next replacement for her sister. She needs to get into the inner circle and find her way into their inner ranks so that she can close in on them and shut them down for good. She has to get to the leader, and Shiloh seems to believe her at this point. But, it might not be more than him going with the flow and playing her in return, too.
Stay tuned for more General Hospital and be sure to check out TVOvermind daily for the latest General Hospital spoilers, news, and updates.