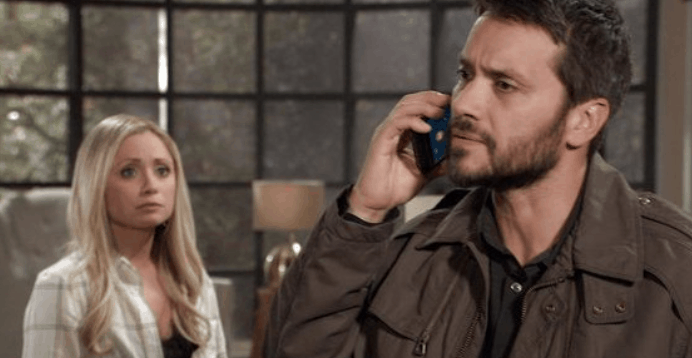 General Hospital fans were not shocked when Willow opened up and shared all that she's been up to, all that is going on, and what is to come. This entire situation is out of control, and we know that Sam and Jason and everyone else are looking to take down the DOD situation. We also saw that the awful Shiloh is being more awful than usual, which is impressive. He's pushing the limits, but he has no idea that he is so close to seeing everything he has been working for taken from him and ruined. He has no idea that Willow has come out and shared the truth. He has no idea that there is a problem with anything else, either. But, we do know that he has a chance to see things unfold in a way that will not be pleasant to him.
This is the end of his terror on so many families, and we can only hope it brings some peace to everyone once it's been finalized. Can they take him down without him causing anymore hysteria around here, or will there be more hell to pay before the end is really here? He's a man who has not done much good, but he's also one who is not afraid to do much bad, either. This is a problem we cannot handle waiting any longer to see resolved, which is why we are so excited to see how this all unfolds. Will they get him without any casualties, or will he end up disappearing and make everyone miserable one last time before he does? And what will happen to Kristina when this is all said and done? Will she ever recover from all she nearly got herself into, or will she suffer more than we like to realize?
What's Happening on General Hospital
It's always St. Patrick's Day at Kelly's! 🍀Get your green gear from the home of Port Charles' most beloved diner – courtesy of the #ABCShop.
CLICK TO BUY: https://t.co/Efrh8ObEZl #GH55 pic.twitter.com/90iohwHsvJ

— General Hospital (@GeneralHospital) March 23, 2019
The irony that it's Kelly green is not lost on us.
What's Next on General Hospital
"I'm getting everything I want." #GH55 pic.twitter.com/kSiXEOtyt6

— General Hospital (@GeneralHospital) March 18, 2019
Sonny and Alexis know that there is a big problem in their lives right now. And that problem is this situation that their daughter has found herself in the middle of. And it's not going to end well for her. They have to figure out what is going to happen to them in the meantime, and how they can stop this mess from getting even worse. And they don't have the same idea about. Not that this should come as a big shock or surprised to anyone who knows these two at all. But, the deal is that their daughter got herself into another mess, Alexis' other daughter is working very hard to get them out of this mess, and everyone is in the middle of a hard time. Sonny is still learning about Dante and his current situation, and that's something he also has to come to terms with.
Dante is confused, and he's not sure who he can trust and who he cannot trust, but we are sure that he is more than a little happy to see his wife now that he is back and things are looking up for them. There is nothing we want more than to see him and Lulu in their good place again, especially since Lulu has been through so much without him as of late. Things might not take the best turn for them in moments like these, but we know that things will eventually be good enough for them to deal with on their own terms. That's what it means for them when they are in love, and they are nothing if not madly in love with one another.
Stay tuned for more General Hospital and be sure to check out TVOvermind daily for the latest General Hospital spoilers, news, and updates.