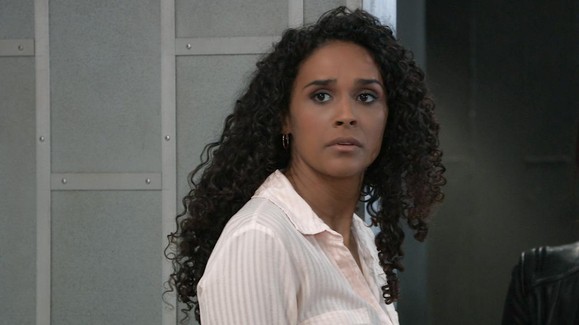 General Hospital fans know that Curtis and Jordan are going through some rough times. Their entire life is rough times these days, and that's been that way for a while. Ever since they got married and her life was put on the line, and things just fell apart a day at a time afterward, it's not been the same. Now she's been warning everyone that something is off and that there would be some issues in Port Charles, they all ignored her for some time, and that's all that we have to deal with. She was right. They were wrong. She is now working as hard as she can to help things out in her own capacity, and it's not always going her way. She's had to ask Sam to step back and let her be. She's had to lie and give out false information, too, and it's been a problem from the start. We aren't sure how to fix it.
Now Curtis is mad at her, and he has some confrontational issues to deal with. She will handle him as well as she can, but it's not going to end well on our part. Brooke Lynn is nothing short of a hot mess, and she's letting that show. She's not happy, so she's going to do all she can to get even with the people in her life. She is looking to find herself in a situation that allows her to get her own way, to do what she feels is necessary, and to be what she feels is the right option. She's been going through a lot, and we know that. We know things are not good with her. We know she's a mess. But, what else is there? We are having some difficulties with her, and they are showing.
What's Happening on General Hospital
Can Curtis save Jordan? Can Jordan save TJ? @donnellturner1 @Bri_Nic_Henry @TajhBellow @GeneralHospital #GH

— Frank Valentini (@valentinifrank) March 23, 2020
More importantly, can anyone save her?
What's Next on General Hospital
"You're a dirty cop now. Cyrus has you right where he wants you." #GH pic.twitter.com/Lrp84mUMjZ

— General Hospital (@GeneralHospital) March 23, 2020
Jason is not in a good place right now, and he has to find a way to reason with Jordan. He knows that Sam cannot stay out of this and that she cannot be away from what is going on. It's her nature to fix this, and she is not being given the correct information about anything that is going on. This is hard on Jason to deal with, and he has to focus on reasoning with Jordan about as much of this as he can. It's not going to be easy, and we know that Jordan is not in a good place with Jason right now, either, but he is still going to do whatever he can to focus on getting her what she needs when she needs it. It might not work, but it might just make a big difference in the way things are currently going right now.
Spinelli is trying so hard to help Sam, and we love that. Right now, he might be the only one who really can. He might be the only one who is willing to help her, who is not trying to lie to her, and who has her best interests at heart, and we are fans of that. But, we also know that there is always more to this than meets the eye. Of course, it could change. Molly is concerned, and there is little going on right now that will help any of them as they go through this. There is not a thing that she can do, but she's not going to calm down about this.
Stay tuned for more General Hospital and be sure to check out TVOvermind daily for the latest General Hospital spoilers, news, and updates.