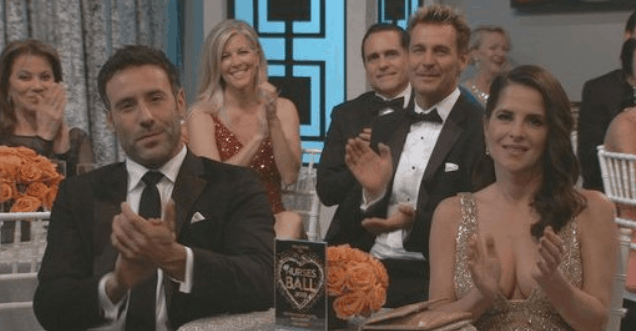 General Hospital fans know that Anna is not in a place where she can easily figure things out right now, but she's got a lot to look forward to. Life is turning out to be something she's good with, and things are finally starting to go her way, but will she allow that or will she end up changing her mind and her life and getting her situation out of control? We are not all that certain, but we do hope that she can get her life in order in some way. Peter, meanwhile, is still trying to get Maxie to work on her life and get her situation to work out, and they are trying to work on Molly's plan, even though we all know it is not a good plan. Nothing about this seems like a good idea, and we all know that is true.
Kristina has confronted her sister about her life with DoD, and she has no idea that Sam is working an angle and trying to take them down. She is back and better than ever, and she is now worried that her sister is in this because of her. She's feeling all the responsibility, but she is definitely working her situation. She's going to try and help her sister, and we know that this will do nothing but make things worse than they are. Sam couldn't tell her sister what was really going on because she has to cover herself. She has to make sure she's not going to get herself into anymore trouble, blow her cover, or make things worse. But, that's not something we think will happen. There is always a miscommunication, and that is how things stay interesting around Port Charles. She will try to save Sam, and things will be worse.
What's Happening on General Hospital
WATCH: The Nurses of General Hospital kick off the 2019 Nurses Ball with their rendition of The Emotions' "Best of My Love." 🎶 pic.twitter.com/Ehy6iSzCIr

— General Hospital (@GeneralHospital) May 21, 2019
The Nurse's Ball is always the most exciting time of the year.
What's Next on General Hospital
The Nurse's Ball is always something fans look forward to in Port Charles, but it must come to an end at some point. It always ends, and it's always something that ends with a bang. We cannot remember the last time the ball ended and everyone was safe, happy, and in a good place. Actually, we cannot remember the last time anyone was in that kind of place in general around here, but you know what we mean. There is a lot going on around here at all times, and we just want to sit back and figure this out on our own. We know that Ava is going to leave the ball before it is over, and we have to wonder if this is part of her grand plan. Is she there to make it work, or is she there to make sure that things don't work? You just never know with her, and we do worry because of that.
Then there is the fact that we have to think about Willow, who does want to do her best. She cannot, of course, and that is going to be a problem for her. But, she's trying. She's getting in the way, she's making bigger messes, and she's not entirely honest with the people she's trying to be close to, but maybe she can change at some point. Lucas is finally going to connect the dots, though, and that might save some lives. We hope it does, anyway. We hope that it's something that makes everyone feel so much better about life, and we hope that it's something we can enjoy on our own.
Stay tuned for more General Hospital and be sure to check out TVOvermind daily for the latest General Hospital spoilers, news, and updates.