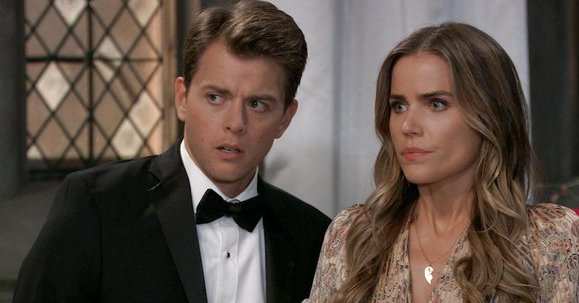 General Hospital fans are not that excited about what is going on with Sam. She's in trouble, but when is she not? Our point is that we are tired of seeing her in trouble, and we want to see her in a good place in her life for once. We are tired of her being in a place where she is not sure where the future is going to take her or what it means for any of them. She's got a lot on her plate, and we aren't that excited about it right now. Spinelli is doing what can be done to help her, but we aren't all that certain that things will work out for her. Jason is a mess trying to do the same, too, and it's all taking a turn that might not be the best for anyone. They have so much to offer one another, but they don't seem to have anything going for them that makes them seem like a happier situation.
On the flip side, we know that Laura is suspicious, and she's digging. She had the chance to do that when Valentin literally left thins wide open for her, and we might be surprised what she's able to find out now that she is in the middle of doing these things. But, will she uncover what Lulu already knows? Or will Lulu finally share what she knows? And how will this affect everyone else? There is a lot going on, and we have to worry about so much. We have to wonder what will happen when the truth does come out, too. Will Michael support her, or will he end things with Sasha? This would be two women who came to town and made him fall for them only to find out they are not who they say they are.
What's Happening on General Hospital
Has Willow come to terms with hers and Wiley's relationship, West Coast? Chase seems to think so. @josh_swickard
An all-new #GH starts RIGHT NOW on ABC! @katey_macmullen pic.twitter.com/QGMynnXsqa

— General Hospital (@GeneralHospital) October 8, 2019
Does she have a choice given the truth?
What's Next on General Hospital
"If I don't do this right now, it will be too late!" #GH pic.twitter.com/SZvd2iuGeT

— General Hospital (@GeneralHospital) October 7, 2019
Charlotte and Lulu are spending some time together, and we know that is one of the most important things in Lulu's mind. She wants to spend quality time with her girl so that they can get to know one another, but Charlotte is a little girl who is not sure what her life is going to be like. She grew up thinking one woman was her mother, but she was not. Then she finds out Lulu is her actual mother, Nina is her stepmom, and she's got a dad she didn't know about, either. Her life is interesting and probably very sad, but Lulu wants to do anything and everything in her power to make this little girl love her so much. She loves being a mother to this child, and she's not willing to give that up. They are having some lunch, and we just hope that things work out well for them and that they are able to focus on good in their lives.
Then there is Valentin, who is not a happy man. Things did not go his way this week, and he's not very thrilled that they turned out the way that they did. He's upset, he's frustrated, and he's not living his best life. His indignation is not getting the best of him right now, either. He's struggling to find a way to make things work in his own mind, and we will see him continue to struggle as the week goes on. There's not much he can do right now, and that's not a situation he can change, but things will get change.
Stay tuned for more General Hospital and be sure to check out TVOvermind daily for the latest General Hospital spoilers, news, and updates.