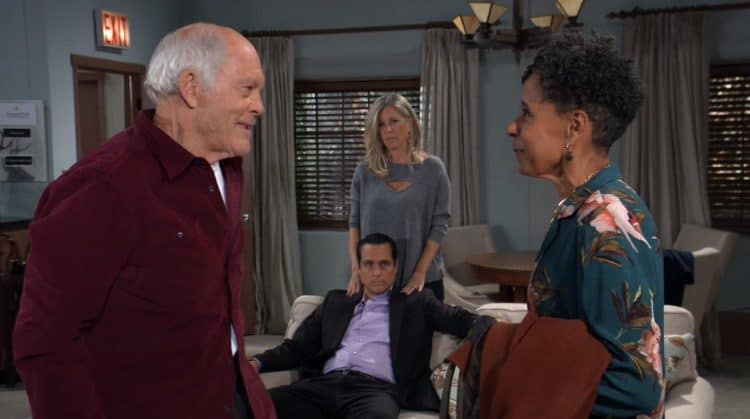 General Hospital fans know that it's not Hayden's best year. She shouldn't have come back to town, but she did. She came back. She brought this little girl with her. She needed the help, and she needed the people she knows and loves in her life. She appears to also be up to a few things we didn't see coming for some time now, but that's her own business. She's got a lot to think about, but she's certainly not about to be bullied into doing anything that she doesn't want to do. She's not that kind of woman, and she will not allow this behavior to continue in her own life. She's got more to worry about than what they have to offer her, and that's all right with us. We just want to see her happy, and that's good enough for us.
Then there is the fac that we cannot wait to see what happens with Franco/Drew. He paid a visit to Monica, and we cannot help but wonder how much of his visit was meant because he knows she's been kind to Kim, and how much is about what he said it was about. We don't trust him at all, and that's just how we feel in the moment. For now, we sit, we wait, and we wonder. Carly is seeing a big difference in Mike, and she's taking care of business as she needs to take care of it. On the other side, Laura and Jax got a big surprise when someone came to see them. They did not see that coming. Valentin, on the other hand, is very protective of Charlotte, and we get that. We get that she is not going to have an easy life, and he is not going to see things improve.
What's Happening on General Hospital
Monica gets her heart broken and the kids pay the price for drinking! @lesliecharleson @LiptonWilliam @RealEdenMccoy @SydneyMikayla @ashton_arbab @GeneralHospital #GH

— Frank Valentini (@valentinifrank) November 25, 2019
This is ugly.
What's Next on General Hospital
"The clock's ticking… it's going to get unpleasant." #GH pic.twitter.com/8OCH3tK2Ke

— General Hospital (@GeneralHospital) November 18, 2019
Valentin is a man who likes to keep people on their toes, and he also likes to know everything, all the time. He's a man who will stop at literally nothing to get his way, to make the world work in his favor, and to get what he wants no matter how much it hurts him, what he's doing, or how things are going. He's a man who doesn't like anyone other than himself, and he's not going to allow things to let him be bothered. Though, we do have to admit that there is a situation in which we will see him learn something new that might just make him feel happy and gleeful. There is a chance we might see him take a turn with something else, and we cannot wait.
Laura is going to try and do what is best for her family, but there is little she can do at this point without upsetting someone. She's still in a daze knowing that her son is not dead after all, and knowing that he has a chance to make things right in his life. There is a lot going on, and we cannot stand here and not be mad at it for anything other than good reasons. Willow has some time to look within herself and see what is going on. She has to gain a little more insight into her situation and her life, and she has to make some positive changes, and this is the day she will look into herself and make that decision.
Stay tuned for more General Hospital and be sure to check out TVOvermind daily for the latest General Hospital spoilers, news, and updates.