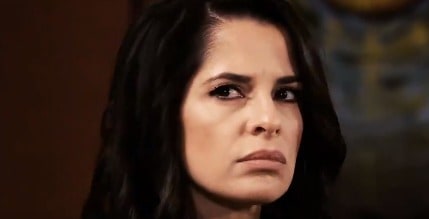 General Hospital fans like Lulu, but we know she can be a bit of a pain when she's on to something and she feels she needs answers. She's there now, and the visit that she paid to Ava is not going well for Ava. Lulu is there to find the answers to the questions that she feels need to be asked, and they might not be in line with the many questions Ava has already been asked about her daughter, her death, and even Ryan and his involvement with her. She's a mess right now, which is not unusual, but this is a different kind of mess situation if you ask us. She's in the middle of making things work in her favor, but she's also in the middle of making a mess of things she cannot seem to handle otherwise. She's done things she cannot even fathom, and she's managed to make her life seem to be worse than it is, and Lulu's questions are killing her. But Lulu will find the answers she is looking for.
Drew definitely made it clear to Kim that she should spend some more time with Julian and forget about spending more time with him. He's made it clear to her that he is absolutely on board with her making that decision, and he has no problem with her doing that. He's in the place he needs to be with her to make a relationship work. He's not even sure, yet, who he really is in terms of his own history and his past. And this is bad news for everyone. But the deal is that he wants to see her happy, but he knows in his heart he is not the man for her at this moment in time. Perhaps in the future, but we suspect she will keep working on that when she feels she can get it to work for her.
What's Happening on General Hospital
Felicia and Laura express their concerns for Kevin! @KristinaWagnr @GenieFrancis @thejonlindstrom @GeneralHospital #GH55

— Frank Valentini (@valentinifrank) December 27, 2018
We are just over here thinking that they should be concerned for him, but also thinking that it's been long enough that they should have been concerned for him a while ago. But, that's just us, and we cannot do much about that.
What's Next on General Hospital
"Nothing is gonna be done to that boy unless I say so." #GH55 pic.twitter.com/TI5Zb4GgEE

— General Hospital (@GeneralHospital) December 31, 2018
Mike is just not in a good place in his life, and Sonny knows it. He's doing everything in his power to make sure his father is able to get past what is upsetting him so that they can make things work in his favor. He's trying so hard to make his father feel good about life, to make sure things work for him, and to make sure he can get a handle on what is going on in their situation. He's working so hard on things like that, but they don't always work for him. It's distracting him from the other people and situations in his life that also need his attention. Drew, on the other hand, is looking for a friend, and he's found on in Curtis. He will open up to him about the life issues he's going through these days, and that will prove to be quite interesting when it all goes down.
Lucy is also going to show back up in town this week, and we cannot wait to see what she's doing here, what she has planned, and why she's feeling that this is the right time in her life to make choices like this. It's a mess in so many ways, and we cannot wait to see them do what they are working to get done. And then there is Sam. She's unnerved, but that's what having a stalker will do to you. It will make you feel uncomfortable in your own life.
Stay tuned for more General Hospital and be sure to check out TVOvermind daily for the latest General Hospital spoilers, news, and updates.