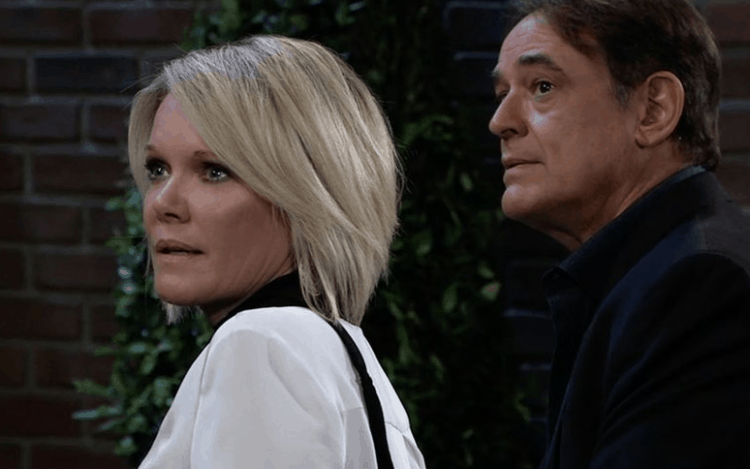 General Hospital fans know that Sam is making proposals, and she's doing it because she feels that she can make some big moves by doing so. She's not sure she can handle what is happening with her feelings and with her life right now, but she can focus on things that are going her own way. Will she, however, figure out a way to make this situation turn out in her favor? She has to get Shiloh to make a mistake, to say the wrong thing at the right time, to make an admission about the way she feels things will go, about something she can use to incriminate him, but he keeps his hand close to his vest. Will she be able to trick him into giving this up to her so she can use it to make things right? And what will happen when she does?
Meanwhile, Jason took Carly to the hospital. She's got so much going on in her life right now, and there is nothing he can do to make this better other than get her there right now. She has to go, and they both know it. She's got to have some tests, and we think that they will come back with results she's not sure how to handle. Will she be able to take care of herself when she finds out what is wrong with her, and will she be able to get through this? She's had such a rough few years, and we think that results like the ones she might get can pull her even further under where she's been. She cannot have another bad moment in her life, and we cannot handle anything other than the good that is coming from her life at this moment in time. Can this work?
What's Happening on General Hospital
Have you wanted to meet your favorite Port Charles inhabitants like @RealEdenMccoy (Josslyn Jacks)? Come to the official @GeneralHospital convention in Burbank June 7-9! It's now 3 big days and more stars than ever! Get your tickets now! https://t.co/7ZQ919Jna2 #GHConvention pic.twitter.com/4TncBzd7ro

— Creation Entertainment (@CreationEnt) May 14, 2019
It's time to get to know your favorites, and we love it.
What's Next on General Hospital
"Welcome to another Nurses Ball!" #GH pic.twitter.com/Myuqu3jRqw

— General Hospital (@GeneralHospital) May 13, 2019
Maxie is not always on Lulu's good side these days. They've had their fair share of ups and downs in the past few years, and there is not a good way to say that they cannot always have what they want. But there is reason to believe that they might overcome their issues and get back to the place they were for so long. There is a chance they can find some common ground, but it will come from Maxie. She's checking in on her old friend to make sure she is all right. It's been a terrible year for her now that her husband is gone, her baby is being taken from her, and everything is going wrong in her life. She's struggling, and it's showing. And that's not all, either. There is a lot that we don't realize is happening around here, but there is also a lot that is going to bring them back together.
Peter is going to express his happiness with someone, too. He's been filled with gratitude for those who have gone out of their way to help him recently, and he is making sur they know that he is feeling good about it. It's also the day that Carly gets her results back from the doctor. She's not going to know what to think when they give them to her, either. She's going to be terrified, but Jason knew she would be. That's why he took her even though she didn't want to go. She's not ready to hear what might be wrong with her, but she has to know. She has to face this.
Stay tuned for more General Hospital and be sure to check out TVOvermind daily for the latest General Hospital spoilers, news, and updates.