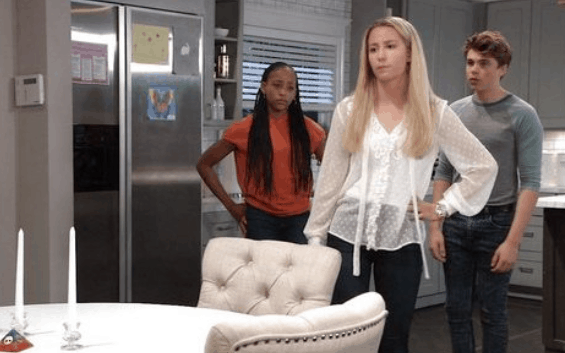 General Hospital fans want to cry. We want to cry for Joss because we don't know what else to do. Her life sucks. She's lost her very best friend. Her dad is back, and while she likes that, she's not entirely happy about the fact that her life is being turned upside down. She's got him there to be all up in her business. And she is not a fan. She's not someone who wants that kind of attention. She's got a mother who is constantly distracted by her own life and the lives of the people whom she loves, and she's not always able to focus too much on her daughter. Joss likes that. She can get away with a bit more when it's just her mom and Sonny and all the distractions they have in their lives. Now that her dad is here, she's not getting away with as much. While that is a great thing, we still cannot help but feel for her and her feelings. She's sad, and her heart is hurting.
Then there is the problem that Maxie is facing. She's got a potential lead on what might have happened to the man her best friend loves, but is it true? Is she a woman who can track down Dante and fin a way to let her friend know where he is? After all, Lulu's husband left her more than once. He left her behind this time for no other reason than to deal with his own life because he cannot handle the way he is feeling. He is upset. He is not happy. He's a man who has some issues of his own to deal with, and we cannot get on board with his way of thinking and doing. He's not making much sense to us, and that's a thing we cannot ignore.
What's Happening on General Hospital
🎈Please help us wish @TheRealSonyaEd a very #HappyBirthday! 🎂🎁 #GH pic.twitter.com/nYui0V3vsO

— General Hospital (@GeneralHospital) June 17, 2019
Happy birthday to this gorgeous lady!
What's Next on General Hospital
This summer is bound to be hotter than ever. ☀️#GH pic.twitter.com/LoTjlGCIR4

— General Hospital (@GeneralHospital) June 17, 2019
Michael is going to see his father, and we hope that it's a good visit. He hasn't had much on his mind other than the problems he's been facing lately, and his grandfather and his mother and his sister's, and all of those problems. He's been facing the problems Nelle continues to throw at him from where she is locked up, and he's just a mess. But, he is making time to visit his father. Hopefully, they can see something eye to eye for once, and hopefully it will make things seems a little easier for both of them. Sonny is struggling so much with the return of Jax, who always seems to make it more difficult for Sonny to do things the right way. He always seems to find things working not so much in his favor, and we are always worried about him and his life.
But, then there is Willow, who has a confession to make. What she has to say might shock someone who knows her, and it might just shock all who know her. But, we know that she has no idea her actual baby is dead, so we don't think it's that. We think it might be more like something that's wrong with Shiloh and what made her make the decisions she made in the past. But, for now, we just get to wait for her to come out with it and rock our world. She might make our jaws drop, but it might just change the course of the game if we can see that happening.
Stay tuned for more General Hospital and be sure to check out TVOvermind daily for the latest General Hospital spoilers, news, and updates.